Giro
Cycling Enthusiast
Flagstaff, AZ
gLove Luv! ??
I ride 2-3 times per week averaging 25-50 miles per ride. Thought I'd give these a try and I'm not disappointed. I typically experience numbness in my hand and the first time I wore them I realized I was well into my ride and I hadn't gone numb! I can't say they've reduced the tingling entirely, but they've reduced it significantly. I have at least 10 pairs of gloves from several different brands and these are my most comfortable, I'll buy another pair.
Thank you for your feedback.
Cycling Enthusiast
St. Paul, MN
1 of 1 customers found this review helpful.
Replaced my 4 year old Synthe
My Synthe was 4 years old so figured it was due for replacement. I assume the Spherical technology of the Helios provides a greater level of protection than the Synthe (MIPS only). Overall the Helios has a better finish than the Synthe and operation of the RocLoc is definitely smoother and easier. The Helios uses pad strips in the top which I don't think provide quite the ventilation of the plastic "basket" the Synthe uses. My one complaint about both helmets is that the chin strap buckle adjustment tends to creep loose and require tightening every few days.
Thank you for your feedback.
Cycling Enthusiast
Vermont
1 of 1 customers found this review helpful.
Good pair of gloves
I have a couple hundred miles on these and really like them so far. I've been wearing Giro Jag and Bravo the past year or so, and decided to upgrade to the Monaco. The fit is very similar, and has the pad inside the thumb which is what drew me to Giro. The palm is holding up well and has broken in very comfortably. It gives good grip, and the cushion is nice. The back is comfortable and light, definitely summer weight. Overall a solid pair of gloves, especially at Western's sale price.
Thank you for your feedback.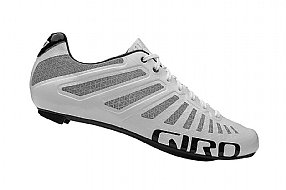 Cycling Enthusiast
Portland, OR
2 of 2 customers found this review helpful.
Man, I love these shoes!
These are my new favorite road shoes. They are super light, which is more noticeable on rides than I would have expected. The ventilation is also extremely comfortable--ironically keeping my feet drier than other shoes even when its a little damp out. Don't confuse these with all-weather shoes, but the ventilation is covered with a mesh that somehow seems to deflect water while allowing moisture escape (brilliant!). And even though they are super-vented, I have worn them comfortably on 40-deg rides without shoe covers (and with very thin Rapha Pro socks). And I would think that an effective shoe cover like a VeloToze or even a more conventional waterproof cover would allow the shoe to perform acceptably well in mild rain. So, not all weather, but most weather. But mostly, these shoes are really comfortable. They are quite stiff, meaning great power transfer and no hot spots. But they also have very pliable uppers, meaning excellent adaptability to the contours of the foot (at least my, rather narrow foot). I have now put a couple thousand miles on these and aside from a few scuffs from toe-over front wheel rub, they look and feel like new. I was quite skeptical about these shoes because I was not confident that they would be good all-around shoes, but I've been convinced. These are now my go-to number one choice. Highly recommended.
Thank you for your feedback.