Giro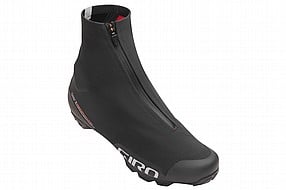 Comfortable and warm
I have been wearing these shoes all winter so far and really like them. They are easier to get on and off than a separate shoe cover, they are warmer than a cover, and seem to breathe better. Realizing fit is personal depending on your anatomy, I feel these fit true to size and are very comfortable for my slightly wider than average foot. They keep my feet dry in moderate rain (haven't tested them beyond 4 hours). I haven't had the problems of the inner laces loosening that some others have described. My only minor gripe is the outer zipper cannot be completely zipped to the top on my ankle as it is too tight while wearing a sock. The taller sock is needed to extend above the top of the boot to prevent the cuff from irritating the skin. The outer zipper still seems to hold even when not fully zipped, and the cuff of my tights covers/overlaps the top of the boot, keeping the whole system waterproof. It's a minor issue that I have been able to deal with that does not outweigh the pros of this product IMO.
Thank you for your feedback.
Cycling Enthusiast
Portland, OR
This helmet saved my life. Full Stop.
I bought this helmet because a friend had just purchased one and he said it was really comfortable. When I tried it on, he was right. I really like Giro helmets and have had two Aeon's in the past--so I expected a good fit. But the Eclipse gives a couple advantages I had not expected. First, the aero design is more noticeable than I would have expected. You notice how aero it is because it is just quiet--so much less wind noise than an Aeon. Because of my experience with an Aeon (and Specialized S-Works Previal) I was worried that the much more aero Eclipse would be hot in the summer. But that was an unexpected surprise too, and I would say that it cooled about as well as its cousins. But my real praise is about its crash protection. Last November, I was hit by a car that ran a red light at about 30MPH. The impact was mostly on my head. My face was badly beat up, and I received a serious concussion. But I'm convinced that without the spherical MIPS and the layered design of the helmet, things would have been much worse. The helmet did its job--EMT's actually thought it was not damaged--but it was crushed on the impact side and clearly took a major blow. Nevertheless, it remained intact, and more importantly absorbed and transferred the impact so as to minimize the damage that could have occurred. Thank you GIRO for designing an excellent helmet! Not only is it fast, light and comfortable, its also a damn good piece of safety equipment. Of course, I bought another to replace it, although I was eager to see the new Aries just released--which may be an even better helmet, who knows?
Thank you for your feedback.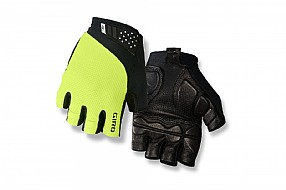 Willamette Valley, Oregon
Fantastic gloves that run very small
Great gloves for summer riding, white leather palms won't stain your bar tape. Biggest complaint is i wear a medium in every glove ive ever had (including giro) yet i had to buy an XL in these particular gloves.
Thank you for your feedback.
Competitive Racer
SE Michigan
1 of 1 customers found this review helpful.
Light, Aero and Quiet
I currently have a Kask Protone, Bontrager Velocis and this Eclipse Spherical. The Protone is quiet and aero, but not that light. The Velocis is light and aero, but not that quiet. The Eclipse is all three and has a very nice, low profile. Highly recommended.
Thank you for your feedback.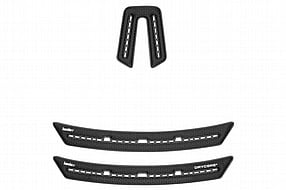 New!