ENVE
Competitive Racer
Eastern NC
Wow
Purchased an Enve Melee after a high speed crash destroyed my S-Works Tarmac. Sz 52, 40cm bars, 100mm stem, built up with SRAM Red AXS with a Quarq power meter. Rolling on Carolina 50mm wheels, Industry 9 hubs and GP 5000 TL 28mm tires. I currently have approximately 400 miles on it both trainer and outside. If I compare it to my Tarmac the geometry is almost exactly the same, matter of fact, the only difference is a 4mm longer top tube and about 150gms heavier.
This thing is stiff...but in the right places. I think that is mostly a function of my going from QR skewers to thru axles. Fully built it's about 1.5lbs heavier than my Tarmac but I went from rim brake 11 speed to disc brake 12 speed and I think that is the main reason. It doesn't feel like it has the same snappiness as my Tarmac did when climbing but all out sprinting and cornering at speed I don't notice a difference.
My only complaint if I had one is that it is only available in one color. I typically build my own bikes because I don't want anyone to have the same bike I do and with only a single paint color that significantly increases the odds I will see another that is at least similar.
Long story short, I don't have any regrets and I am happy with my purchase, would definitely buy it again and recommend the Melee to the serious cyclist!!
Thank you for your feedback.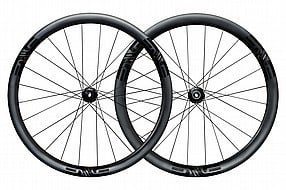 0 of 2 customers found this review helpful.
Guilty Pleasure
So, I will start with �I love this wheelset�. Only 5 rides in, they are the perfect complement to my latest build. Without validating, they feel lighter than my 5 year set on my previous bike. Coupled with the ENVE tubeless tires, I feel confident with cornering and rolling wide open in descents.
It is impossible to provide a like for like as I am running on a completely different bike. However, I am not wondering if I should have selected a different set and I don�t regret the investment.
Thank you for your feedback.
Game Changer
I have never been a fan of true road tires. Schwalbe Pro Ones and other low/no tread tires always felt too slippery and did not inspire confidence. Besides that, I have always been afraid of glass or some other roadside refuse ruining a ride when running lightweight tires. These tires were my compromise, and I am so glad I did. They keep good traction, even in wet weather, but have made a major difference in speed. My best guess is I run half-a-tooth of cassette smaller now with the tires. I also have not had any flats since running them, despite a few cringe-worthy run-ins with metal wire and other tire-wreckers. Also worth noting: the tires meet the promise of mating perfectly with SES rims for (questionable) aero benefits. I could not be happier, and will buy again. Definitely recommend for anyone not sold on the ultralight tire craze.
Thank you for your feedback.
Cycling Enthusiast
steamboat Springs, CO
3 of 5 customers found this review helpful.
Best Road Tire I've ever run
I run 27 front, 29 rear on Enve 4.5AR wheels. mounting was a breeze and they inflated super easy. I follow Enve's recommended PSI in general but go a couple PSI above recommended (59 front/60 rear). The 27's inflated and settled in at 29.5mm which is just at the 105% rule on the Enve 4.5Ar's. Riding in CO on mountainous chip N seal and these tires are supremely supple, smooth and handle wonderfully. They are very fast too. I run a Power meter and can verify they are faster on real roads and climbs than what a steel drum indicates. :). Even at higher PSI's for my 167lbs on 25mm internals, they run more supple and smooth than Schwalble Pro One TLE Addix's by far! I do wonder by some of the reviews if an earlier production tires had issues ? The rubber is a little softer which adds to the road feel and cornering stability but Im not concerned about getting the longest lasting tire, I am happy with the best rolling and handling tires. I ride about 2K miles a season and these are my favorite tires I've ever run.
Thank you for your feedback.