ENVE
Game Changer
I have never been a fan of true road tires. Schwalbe Pro Ones and other low/no tread tires always felt too slippery and did not inspire confidence. Besides that, I have always been afraid of glass or some other roadside refuse ruining a ride when running lightweight tires. These tires were my compromise, and I am so glad I did. They keep good traction, even in wet weather, but have made a major difference in speed. My best guess is I run half-a-tooth of cassette smaller now with the tires. I also have not had any flats since running them, despite a few cringe-worthy run-ins with metal wire and other tire-wreckers. Also worth noting: the tires meet the promise of mating perfectly with SES rims for (questionable) aero benefits. I could not be happier, and will buy again. Definitely recommend for anyone not sold on the ultralight tire craze.
Thank you for your feedback.
Cycling Enthusiast
steamboat Springs, CO
3 of 5 customers found this review helpful.
Best Road Tire I've ever run
I run 27 front, 29 rear on Enve 4.5AR wheels. mounting was a breeze and they inflated super easy. I follow Enve's recommended PSI in general but go a couple PSI above recommended (59 front/60 rear). The 27's inflated and settled in at 29.5mm which is just at the 105% rule on the Enve 4.5Ar's. Riding in CO on mountainous chip N seal and these tires are supremely supple, smooth and handle wonderfully. They are very fast too. I run a Power meter and can verify they are faster on real roads and climbs than what a steel drum indicates. :). Even at higher PSI's for my 167lbs on 25mm internals, they run more supple and smooth than Schwalble Pro One TLE Addix's by far! I do wonder by some of the reviews if an earlier production tires had issues ? The rubber is a little softer which adds to the road feel and cornering stability but Im not concerned about getting the longest lasting tire, I am happy with the best rolling and handling tires. I ride about 2K miles a season and these are my favorite tires I've ever run.
Thank you for your feedback.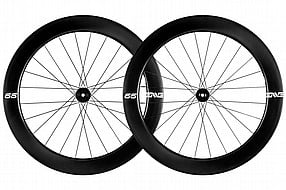 3 of 3 customers found this review helpful.
Too excited not to review
Ok, so this may be premature, as I've only ridden these once, but I'm a believer. I bought these 3 months ago and it took me quite a while in this pandemic to source the correct cassette and rotors.
I went out with some friends today and they all thought i had a new bike. I set these up on my 2020 rounds with some tan sidewall Enve ses tires. The bike is ridiculously faster. Switching over from the stock dt Swiss (which are great for stock) wheels, it's night and day. For the price, your can't get a better wheel. Love the feel, love the look, love the sound.
Thank you for your feedback.
3 of 3 customers found this review helpful.
Almost perfect
I bought the tan walls in 29s and instantly loved em. About the same as any tubeless tire to install. I mounted the on my mavic cosmic rims, filled em with Muc-off sealant and rode em since September till last week (2.1.21)when I finally got a deep cut on the rear tire. Overall they had about 2K miles on em and did awesome. They feel smooth, handle well in wet, cold, hot, and stick in hard fast corners. Only drawback is that after about 2 months the tan wall started to brown. And by the time I switched em they looked as brown and ugly as old boot leather. Granted yes I know they will change in color but it seemed as if they browned a lot faster and more than other tan walls. Other than that they're great and worth the money. A good switch from the GP5000s I had been running
Thank you for your feedback.