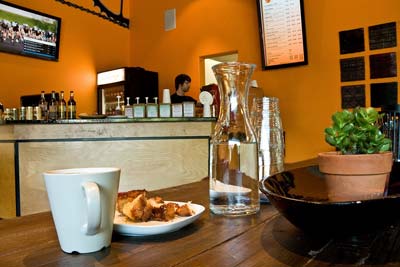 With plenty of in-store bike parking, the Corsa Cafe is the perfect pre/post-ride fueling station. Our talented baristas will be happy to whip up your favorite coffee drink, using beans micro roasted in an uber German cast iron roaster from Portland's own Stumptown Coffee Roasters.
Have a craving for something stronger? We have a nice selection of locally brewed beers on tap, as well as Kombucha. Bottled choices too, including cider.
We have a wide variety of snacks too. From bagels and fruit to vegan treats like cookies & cupcakes, paninis grilled to order and a selection of salads, there's something for everyone.

Our Most Popular Articles
About Us
Bike Closeouts
Bike Fenders
Booting a Tire
Bottom Brackets
Building a Fixed Gear/Single Speed
Ceramic Bearings
Chain and Cassette Maintenance
Cycling Trainers
Event Calendar
Go Faster Now!
Going, Going, Gone
Grease, Lube, or Solvent
Our Staff
Pro Bike Fit
Racing Bicycle Wheels
Ride Necessities
Road Bicycle Tires
Road Bike Components
Road Bike Cranksets
Road Bike Seatposts
Service and Repair
Sidi Cycling Shoes
Tire Installation
Tire Size Chart
Tire Sizes
Tire Types
Tube Types
Tubular Tires
Why Buy a Bike