Tube Types page 2
Replacing a Schraeder tube with a Presta tube
It's relatively easy to use a Presta valve tube in place of a Schraeder valve tube. The Presta valve has a smaller diameter than a Schraeder valve, so will easily fit through the hole in the rim. However, there is a small risk that the valve will move around in this larger hole, possibly damaging the valve and causing a flat. The easiest way to prevent this is to use a Wheel Mfg Presta Stem Savers" (shown at the right) which slides over the Presta valve to fit snuggly in the larger rim hole. These should be installed on the tube before inserting them through the rim.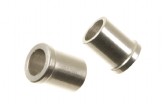 Using a Schraeder Pump with a Presta Tube
If you're used to using a conventional Schraeder pump or air compressor (perhaps at the local gas station) to pump up your tires, you can still do this with Presta valves (although we don't recommend this!). By screwing a Genuine Innovations Presta Valve Adapter (shown at right) onto your Presta tube, you can pump it up with a Schraeder pump.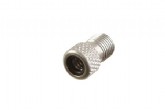 Tire Sealants and SLIME Tubes
Tire sealants are liquids that are put inside tubes which seals small punctures almost instantly. When a puncture occurs, the compressed air inside the tire forces the sealant through the hole at high velocity. When it contacts the low-pressure air, it coagulates to form a seal. This stuff really works to prevent flats. For holes up to 2mm or so, which is most punctures due to glass, thorns, wire and small tacks, the sealants are very effective.
Slime Tire Sealant is optimized for standard butyl tubes. Unfortunately, it can't be inserted through a Presta valve stem because it gums up the valve. To solve this problem, SLIME has Slime Self-Sealing Tubes that have sealant pre-installed. It is also possible to insert Slime Tire Sealant into your tube by cutting a small hole in the tube, inserting the Slime Tire Sealant, then sealing the hole with a normal tube patch.
Tufo also makes a Tufo Sealant Large (70ml) optimized for use with their tires. It can also be used in other tubular tires. Since the valve core is removable on these tires, it is easy to install the sealant and then replace the valve core. Given how hard it is to repair tubular tires, we highly recommend using the sealant. The sealant can be used as a preventative, or after a flat occurs for repair.
Tire Liners
Another way to minimize flatting is to install tire liners. These are strips of Kevlar or plastic that are inserted in the tire between the tread and the tube. They are basically just adding an extra layer of protection between the tire and tube. The most popular of these is made by Mr. Tuffy. While these products do reduce flatting, our preference is to use tire sealants. Most foreign objects that can work their way through the tire casing will also eventually get through a tire liner. Where they really help is with larger objects such as thorns that don't embed themselves in the tire.
Our Most Popular Articles
About Us
Bike Fenders
Booting a Tire
Bottom Brackets
Building a Fixed Gear/Single Speed
Ceramic Bearings
Chain and Cassette Maintenance
Cycling Trainers
Event Calendar
Go Faster Now!
Going, Going, Gone
Grease, lube, or solvent
Our Staff
Racing Bicycle Wheels
Ride Necessities
Road Bicycle Tires Page 2
Road Bike Components
Road Bike Crankset
Road Bike Seatpost
Service and Repair
Sidi Cycling Shoes
Tire Installation
Tire Size Chart
Tire Sizes
Tire Tips
Tire Types
Tube Types page 1
Tube Types page 2
Tubular Tires
Why Buy a Bike