Free Shipping for orders over $75
We currently offer free shipping to the continental United States (not including Alaska, Hawaii, or US Territories) on orders of $75 or more. Certain overweight and oversize items are excluded. This is noted in the product descriptions of these items. The more you buy, the more you save! Use our Shipping Quote feature to see the shipping price for the items in your shopping cart.
Shipping Quote
We use United Parcel Service (UPS) for all shipping to the continental United States. For some destinations, including Alaska, Hawaii, and international addresses, USPS may be a less expensive option. APO/FPO orders only ship via USPS and may be delayed by up to one business day. During checkout, you can see all available shipping options for your order and location.
You can also get an instant shipping quote by clicking on the "Click for More Shipping Options" link on any product page. Once you input your zip/postal code (or country for orders outside the USA and Canada), you'll receive an instant quote for all available shipping options to your shipping location.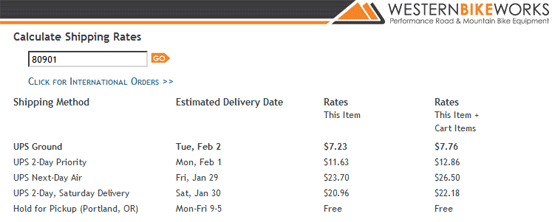 For all shipping options, you'll see an estimated delivery date. This date is based on estimated delivery times provided to us from our shipping vendors. We try our best to get your order to you in the estimated time. UPS meets their delivery estimates on approximately 97% of shipments, and guarantees delivery on or before the estimated arrival date except during the holiday season.
Please note that some items, including CO2 cartridges, aerosol lubricants, and other volatile materials, cannot be shipped via air, and so are not eligible for expedited or international shipping.
International Shipping
We have several shipping options available for international customers. These options will be presented to you during checkout.
UPS Worldwide Express is quick, provides tracking information, and includes the customs brokerage fee in the shipping cost.
As an additional option, we have partnered with comGateway to offer lower-cost international shipping. Shipping costs via comGateway are often 25-50% less expensive than UPS Worldwide Express. When you choose this option, your order is processed through comGateway, not WesternBikeWorks; you'll receive further information from comGateway, including an order number. If you choose this method and have concerns about your order, be sure to let our customer service department know that you chose comGateway for shipping, and have your comGateway order number ready.
Customers shipping to some international destinations may have the option to ship via USPS International Airmail Parcel Post, which takes less than two weeks to reach many destinations and may be a cost-effective option.
International orders may take a little longer to process than domestic shipments due to the additional requirements involved. You may also be required to pay import duty, local taxes, and brokerage fees (if applicable). These are collected at the time of delivery. Because import duties, brokerage fees and local taxes are applied by the destination country, we are not able to provide estimates or quotes for these additional fees. Please consult your local government for additional information about these fees prior to placing your order. Please check with your local authorities to determine the amount you may need to pay before ordering. We attach an invoice to the outside of the shipping box with a detailed description of the products in order to facilitate customs processing, but occasionally orders are still delayed in customs for up to several weeks.
Please note that international customers are responsible for all return shipments to us, including warranty claims. All products must be returned at the customer's expense in order to be refunded or warrantied.
To help facilitate the return process and speed up your resolution, all international returns will be processed as refunds. We regret that we cannot offer exchanges on international returns, but our goal is to issue your refund as quickly as possible, allowing you to place a replacement order at your convenience.
Hold for Store Pickup
Orders may be placed online for pickup at our Portland, Oregon store. Orders placed before 8:00AM Pacific time, Monday through Friday, are available to pick up at the store by 4:00PM. Orders are often delivered to the store earlier than that time, so if you'd like to pick up your order before 4:00PM, just call the store at (503)342-9985 to confirm that your order has been delivered.
Our store location is 1015 NW 17th Avenue, at the corner of Lovejoy and 17th. Click Here for more information and directions to our store.
Order Changes
Should you need to make any changes to your order, please feel free to contact us for help. Please note that order adjustments may delay shipment by one business day.
Our Most Popular Articles
About Us
Bike Fenders
Booting a Tire
Bottom Brackets
Building a Fixed Gear/Single Speed
Ceramic Bearings
Chain and Cassette Maintenance
Cycling Trainers
Event Calendar
Go Faster Now!
Going, Going, Gone
Grease, Lube, or Solvent
Our Staff
Pro Bike Fit
Racing Bicycle Wheels
Ride Necessities
Road Bicycle Tires
Road Bike Components
Road Bike Cranksets
Road Bike Seatposts
Service and Repair
Sidi Cycling Shoes
Tire Installation
Tire Size Chart
Tire Sizes
Tire Tips
Tire Types
Tube Types
Tubular Tires
Why Buy a Bike