TUNE-UP PACKAGES
BASIC TUNE-UP - $65
ADVANCED TUNE-UP - $120
Same services as a standard tune-up with the addition of a complete bio-remediation drivetrain cleaning
THE WORKS - $225
A complete overhaul, the bike is disassembled, cleaned, and rebuilt
CUSTOM WHEEL BUILDS
We understand that, while we offer a huge selection of the finest wheels available for purchase, some riders want unique wheels specifically suited to the type of riding they do. Our professionally certified wheel builders have built strong, burly, 29er wheels that can handle all the abuse you can dish out, to race-ready, aero road tires. Maybe you're looking for a new set of wheels for your track bike for that extra bling? Well, we can build those too.
Be sure to check out our Wheel Demo Program if you're interested in purchasing a new set of wheels.
BIKE FITTING
A proper fit makes all the difference. You can learn more about our professional fit services and the Guru fit system on our Bike Fit page.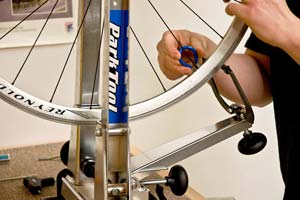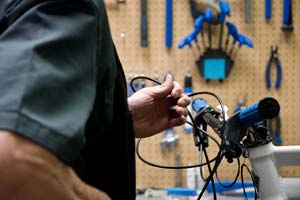 Call for labor rates regarding mechanical work not listed: 503-342-9985.
Buy A Bike From Western Bikeworks and you are automatically enrolled in the Owner's Club. Club members receive free adjustments for as long as they own the bike, plus discounts on service labor and merchandise. Ask a sales or service associate for details.
Our Most Popular Articles
About Us
Bike Closeouts
Bike Fenders
Booting a Tire
Bottom Brackets
Building a Fixed Gear/Single Speed
Ceramic Bearings
Chain and Cassette Maintenance
Cycling Trainers
Event Calendar
Go Faster Now!
Going, Going, Gone
Grease, Lube, or Solvent
Our Staff
Pro Bike Fit
Racing Bicycle Wheels
Ride Necessities
Road Bicycle Tires
Road Bike Components
Road Bike Cranksets
Road Bike Seatposts
Service and Repair
Sidi Cycling Shoes
Tire Installation
Tire Size Chart
Tire Sizes
Tire Types
Tube Types
Tubular Tires
Why Buy a Bike