Topeak
Competitive Racer
Santa Fe, NM
Works --- but not easy to use
I've had a JoeBlow before and really liked it until it finally wore out, so I thought this one would be great. What I do like about it is that it is sturdy, appears to be made well, the guage is easy to read and can fill tires to 160psi. What I don't like is the difficulty using the pump. NO, the hose IS NOT extra long! It is the shortest hose I've ever used! The head has to be placed on the tire valve very quickly and definitively or air will come out of the opposite side of the head. Securing the pump head to the tire valve requires quite a bit of effort, infinitely more than any other pump I've ever used. For the price (bought on sale) the pump is OK but I'll probably try another brand the next time I need a pump.
Thank you for your feedback.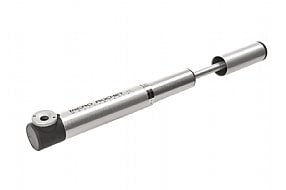 1 of 1 customers found this review helpful.
Does the job...
I've been using this pump for 10-15 year's...I started with the aluminum then upgraded to the carbon version a few years ago to go bling with my carbon bike... they both work the same...it takes about 300 strokes to reach 80 psi with 23mm tires but this gets me home after a flat...the key feature is it easily fits in my back jersey pocket along with my spare tub and energy bars...I don't like using a bag on the seat post or frame...if you have the patience you'll love this pump !
Thank you for your feedback.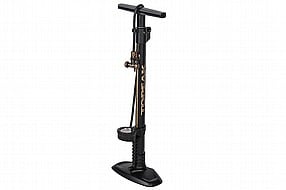 Cycling Enthusiast
Portland, OR
If you go tubeless and dont have access to compressor... GET THIS PUMP
This is hands down one of my favorite floor pumps. My previous pump broke (ran it over), and I picked this up since all of my bikes I run tubeless. I like the ability to pull the valve core with the pump head still on, it makes it really convenient to get more air flow. The pump works on my Mountain and gravel bikes as well as my road bikes. It is a little large, but I don't mind it, so make sure you are okay with having a very heafty pump in your work space/home/ garage.
Thank you for your feedback.
Cycling Enthusiast
Southwest Florida
3 of 4 customers found this review helpful.
Despite the sort of silly name, a solid and accurate floor pump
When my wife saw this, she said, "Really?", "Joeblow?". I told her we needed to get past that and look at the quality build and ease of use this pump provides. It is easy to use with the dual valve capability, she's a Schrader person, I'm a Presta kinda guy. The multi-tip attached with no problems and stayed put. I just installed new tires/tubes on one of my bikes and this pumped them up from flat to 60psi in like 9 or 10 pumps. In my 50+ years of serious cycling, I've owned a few floor pumps but mostly used hand pumps, so this is a huge upgrade for me. The large gauge is nice, I don't need one that large but I may as my eyes start to fail. After filling the tires, I checked them with two different gauges and they were all within a pound or so. Some of the reviews complained about the plastic base, all I can say is that it is strong and solid. I hope to have another 10-15 years of serious riding ahead of me and I totally expect this to be my last pump purchase. I would buy again but don't think I'll have to.
Thank you for your feedback.