Sidi Cycling Shoes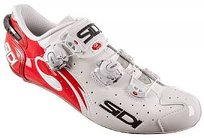 SIDI has been hand making high-quality cycling shoes in Europe since 1973. The company continues to offer state of the art technology in a reliable, comfortable shoe specifically designed to meet the needs of avid cyclists. We offer a wide selection of their high-quality cycling shoes. There are cheaper options available, yes, but SIDI shoes set the industry benchmark for comfort, style, and technological innovation.
SIDI shoes go way back to 1960, when junior racer and shoemaker Dino Signori decided to open his own workshop and promptly began churning out game-changing innovations, first in the snow sports arena and then, beginning in 1973, in the cycling industry. SIDI's cycling shoe with adjustable cleat position was the first of its kind, and the first real innovation in cycling footwear in over 60 years. And the firsts kept coming: in 1979, SIDI created the nylon-soled cycling shoe that is now standard across the industry. In addition, SIDI's thoughtful closure designs have often been firsts of their kind, and in 1985 SIDI created the first dedicated mountain bike shoe.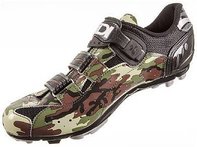 SIDI believes that every rider deserves a shoe with great fit and high-quality materials, even those who cannot afford the top-of-the-line models. That said, even entry-level SIDI shoes are relatively expensive. But other companies are cycling companies that happen to make shoes. SIDI is a cycling shoe company, with deep roots in both shoemaking and cycling, and a thorough understanding of both the needs of cyclists and the biomechanics of the human foot. In other words, they know their stuff.
SIDI's highest-performance models feature details like full carbon fiber soles with special open/close ventilation ports to keep the rider comfortable across a wide range of conditions, high-tech closure systems that allow for a micro-adjusted perfect fit, and adjustable heel retention systems for further customized comfort. Many SIDI parts are fully replaceable, so a worn-out heel pad doesn't mean the end of your shoe's lifespan. Many SIDI MTB shoes have replaceable tread.
Their fit matches their performance too, with versatile options to fit men and women with wide feet, narrow feet, high insteps, low arches, narrow heels... whatever your quirk, SIDI has probably thought about it and come up with a creative and functional solution.
We're always happy to answer any questions about SIDI shoes or our selection; don't hesitate to contact us at 1-800-651-4050 or [email protected].