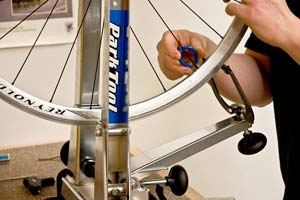 Owner's Club
Buy a bike from Western Bikeworks and you'll automatically be enrolled in our Owner's Club. Club members receive free adjustments for as long as they own the bike, plus discounts on service labor and merchandise. Ask a sales or service associate for details.
Basic Tune-up - $85
Get your bike tuned up and lubricated. Includes:
Adjust brakes front and rear
Adjust derailleurs front and rear
Light wheel truing
Headset, bottom bracket and hub adjustment
Chain and cables lubed and adjusted
Light cleaning
Complete safety inspection
Advanced Tune-up - $150
Includes all the services of our basic tune-up plus a thorough cleaning on the drivetrain. It's a good idea to do this at least once a year if you are a regular cyclist.
The Works - $250
A complete overhaul. The bike is disassembled, thoroughly cleaned, and rebuilt.
A la Carte Service
Of course, we also offer service for individual repairs and part and accessory installation. Give us a call or drop in for an estimate. 503-342-9985.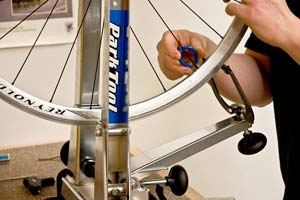 Our Most Popular Articles
About Us
Bike Closeouts
Bike Fenders
Booting a Tire
Bottom Brackets
Building a Fixed Gear/Single Speed
Ceramic Bearings
Chain and Cassette Maintenance
Cycling Trainers
Event Calendar
Go Faster Now!
Going, Going, Gone
Grease, Lube, or Solvent
Our Staff
Pro Bike Fit
Racing Bicycle Wheels
Ride Necessities
Road Bicycle Tires
Road Bike Components
Road Bike Cranksets
Road Bike Seatposts
Service and Repair
Sidi Cycling Shoes
Tire Installation
Tire Size Chart
Tire Sizes
Tire Types
Tube Types
Tubular Tires
Why Buy a Bike