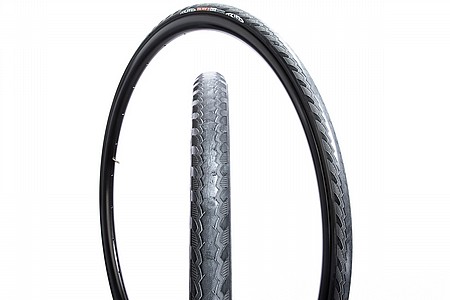 User submitted reviews
Review by Anonymous
Great ride and excellent durability
Cycling Enthusiast
Pacific NW
13 of 14 customers found this review helpful.
This has become my favorite tire over the past year. I use a Ride 25 on the rear and a Ride 23 on the front - providing a great balance between ride comfort, traction, weight and durability. I have been amazed by how few flats I've had with these tires. I've gone through about half a dozen of these and worn most down to the cords without a flat.
The rear tire tread seems to wear a bit quicker than I'd like, showing a red layer underneath the black, sometimes after well less than 1000 miles. The first time, I swapped out the tire when this happened, but since then I've just left them on. After several hundred more miles, I wore through the red layer as well, and I could definitely tell I was down to the casing. Surprisingly, still no flats.
Don't expect thousands of miles (particularly on the rear) - this is still a high performance race tire - but it is surprisingly durable considering its performance.
Thank you for your feedback.