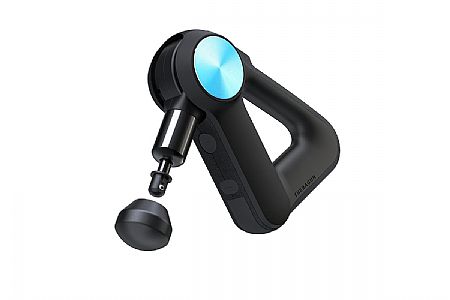 This amazing tools has given me the muscle relief I've been seeking
Daily Commuter
Boulder, CO
1 of 1 customers found this review helpful.
Where has this been all my life? I guess percussion massagers have not been on my radar. I've been suffering from extra-tight back muscles which has been causing me discomfort and pain for several years. I've been to doctors, nutritionists, physical therapists, and have been doing exercises and stretches and taking supplements with only little success. After finding out about the Theragun I decided to get the Pro model. Go big or go home, right?
This newest model is not loud like the previous model. I love the triangular handle grip as well as the adjustable nature of the rotating arm. I find that I need to adjust the arm and change my grip in order to comfortable massage the muscles in my quads, hamstrings, glutes, lower back, and my IT band. The relief I get from using this tool DAILY (or twice a day!) is fantastic. I'm very pleased. Yes, it is an expensive accessory but has been invaluable to me.
Thank you for your feedback.
Next Level Percussion Massage
Yes this massage gun is expensive, but the quality of the device matches the sticker price. If cost is no object this massager is the way to go. Feels well made in the hand and function is incredible. My legs feel like jelly after a thorough session, and the battery life is great.
Thank you for your feedback.
Great tool for a faster recovery
I love this thing. I use it almost everyday in the morning as part of my stretching routine to warm up my legs and at night after training rides while I watch TV. Its not the same as getting a massage by a masseuse but its cheaper and small sessions everyday is great maintenence.
Thank you for your feedback.
Well made quality wise
It would be nice if the RPM's could be lowered even more to say 1250 ? Current range is 1750-2400 and is aggressive. It is also fairly loud but no end to power and the 2nd battery option is great when the 1st quits in the middle of a session lol
Thank you for your feedback.