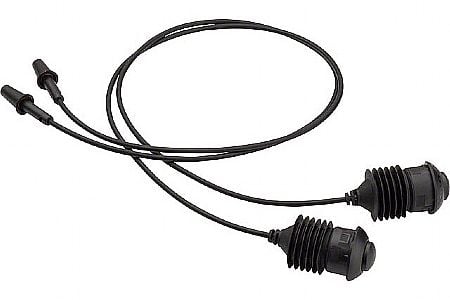 Excellent device. Works flawlessly and makes the aero position much more useful.
Cycling Enthusiast
Miami, Florida
The Bar-End shift buttons work exactly as advertised. You don't have to move your hands off of the aero bars at all - in fact - you really don't have to move anything other than your finger. Makes it much easier to always be in the correct gear - even when maintaining an aero position. Great investment that works great with the electronic shifting system. Also very easy to install.
Thank you for your feedback.
Simple install, work fine
0 of 1 customers found this review helpful.
Installed into my Profile aero bars (carbon ski bend type). Fit fine, look fine, work fine. Due to circumstances beyond my control have not actually ridden with them yet but have little doubt that they will perform. One small bit of info I had a hard time finding pre-order was exactly how the cable length is measured - the length listed is the actual cable length (not including the button housing or the final end connector). My installation was such that I thought I would be very close on the length, wound up actually having extra.
Really looking forward to having shift available in two positions, but I do think the price is a little on the proud side of life for what is basically two plastic buttons and some wire.
Thank you for your feedback.
Awesome for clip on aerobars
Competitive Racer
Minneapolis, MN
I recently upgraded to eTap and was intrigued by the possibility of shifting from clip on aerobars. Now I just bolt on the aerobars, plug in the cables, and secure the wire with some elastic cable ties and I'm all set. Performance has been flawless, even in the rain. Ergonomics are a little goofy so I'd probably be better off with blips but that's no big deal. These are definitely overpriced though. Hopefully there'll be some third party eTap accessories to drive prices down but I'm not holding my breath.
Thank you for your feedback.