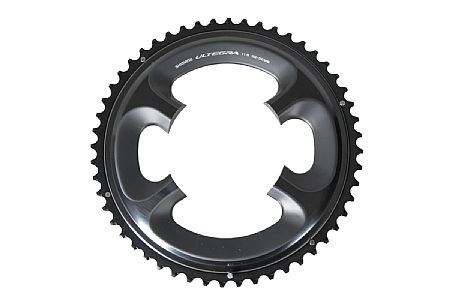 First time dealing with Western Bike Works and completely satisfied.
Cycling Enthusiast
Severn, Md.
Awesome! Delivered what I ordered at great price and on time!
Excellent Quality and Value
Competitive Racer
Albuquerque, NM
Had these chainrings dropped onto Quark D-Four Power Meter Cranks and fit like a glove. The rest of the gruppo is all Ultegra and performs flawlessly as expected. Dura-Ace is nice, but Ultegra is the workhorse of the Shimano line...light, bulletproof, affordable and dependable! Great deal from Western Bike Works!
Thank you for your feedback.
Good gearing option
Cycling Enthusiast
Maryland
2 of 2 customers found this review helpful.
I bought a 39T ring to replace the stock little ring on my 52T/36T crankset. I live in an area with lots rolling terrain, and the 39T ring helps me hit the gearing sweetspot without inefficient crosschaining. I run a 11T-28T cassette and never feel undergeared on hills. Shimano says the 39T is only for use with the 53T ring, but mine works fine with the 52T; I've ridden this setup almost daily for ~2 months and only dropped a chain once due to bad shifting/pedaling technique.
Thank you for your feedback.
Brought back that new bike experience I never realized I lost
After 11,000 miles and a couple of chain replacements another chain was due, wearing to .75%. That was more than my original front chain rings could bear and I was slipping on my large ring after the new chain was installed. I replaced my rings with these and no more slipping. In fact, what surprised me was the decrease in noise. It was remarkable. These are not cheap but they're genuine, in stock, and shipped right away. It was well worth it.
Thank you for your feedback.
great chainring got me up Hell hills outside Boulder, CO
Cycling Enthusiast
Houston,TX
Another Good Shimano Product
3 of 3 customers found this review helpful.
My bike had a compact set, which was just a little too low for my fast bike. I like spinning fast on my inner ring, but with a 34 tooth Id have to almost cross chain to go my normal speed. I bought a 36, and it is perfect. Now I can keep it more in the middle of my cassette and spin away. Good quality, worked perfectly swapping the 34 to the 36, with a 50 outer.
Thank you for your feedback.