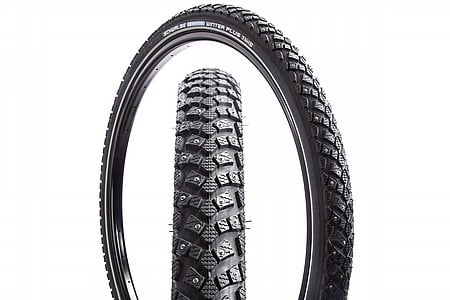 Schwalbe Marathon Winter Plus are very effective and efficient for winter riding.
Daily Commuter
Boulder, CO
3 of 4 customers found this review helpful.
I had been riding with Nokian Hakkpeliitta studded tires (2 years) that felt like riding in sand. They were so slow due to the rubber compound and the tall tread blocks. Then I switched to the Schwalbe Marathon Winter Plus tires and am much happier. I typically install my winter tires around Thanksgiving and take them off at the end of April. As a daily year-round commuter, most winter days I'm riding on dry ground and don't need studs. When I run these tires at 60psi the studs barely make contact and the tire almost feel like summer road tires on my mountain bike. When snow and ice hit here in Colorado I lower the pressure to 35-40psi and the studs keep me upright. So happy I found these tires!
Thank you for your feedback.
Excellent Winter Commuter Tire
Daily Commuter
Pittsburgh, PA
9 of 9 customers found this review helpful.
I commute 16 miles to work daily. I purchased these tires with the hope of having better tractionsafer handling in the icy Pittsburgh winters. I purchased a set, so I've mounted these tires front and rear. Pittsburgh had moderate snow fall last week, with temperatures dipping into the teens. The roads I travel typically freeze because of water run-off from the surrounding hills and I travel over several bridges, which are notorious for icing over. This is my first winter with these tires and I am completely impressed. The tires roll reasonably well on dry roads (for a studded snow tire), but the stability, traction, and handling on ice is phenomenal! As I said earlier, I cross many icy bridges on my commute and my bike did not slide an ounce. In addition, these tires handle very while turning on ice due to the studs on the edge of the tire. One word of caution, these studs are extremely sharp! Please use caution when mounting these tires, as I've cut myself a few times. These tires ride comfortably and are not harsh on rough roads. You won't be disappointed with these tires.
Thank you for your feedback.
Great Tires!
Daily Commuter
New Haven, CT
1 of 1 customers found this review helpful.
These are great tires! My first time out, I tried them in 6"-8" of fresh snow. That did not go particularly well. You probably need a wider tire for deeper snow layers. But on a thin snow layer or ice, they grip like a machine. I just pedaled up the rather steep, ice covered incline at the beginning of my driveway...pulling a 50-60 pound wagon full of groceries. No problem at all! On bare pavement they run quite smoothly and make pleasant, gentle clatter that says, "I've got this winter biking thing totally under control!" Enjoy your winter riding!
Thank you for your feedback.
These are great for icy pathways
2 of 2 customers found this review helpful.
I bought a pair of these for my ebike.
I can ride confidently with them on just about any ice and up to about 3 inches of snow.
I run them a little lower pressure if conditions are more slush and snow than hard ice.
Thank you for your feedback.
It works. Sticks to ice. Maximum pressure 70 psi.
3 of 3 customers found this review helpful.
Had it on the front wheel for a while. Then moved it to the back because the old studded tire only allowed 40 psi. The extra pressure did not make the hill less steep or long. But the higher pressure should help. With wind, the difference is not as good as hoped. I hate wind.
Compared to the other tire, the slush effect was the same maybe worse. Snow and ice yielded about the same performance. Neither tire did well on slush. Slush is like soft sand. But in an icy street that let the back end of the pickup loose, the bike stayed planted. That is ice I don't walk on.
It is noisy like any studded tire. But it beats broken ribs. I am old enough ribs don't bend well.
Thank you for your feedback.
Turn your brain off and enjoy the ride!
1 of 1 customers found this review helpful.
Turn your brain off and enjoy the ride! These tires instill confidence on my commute. They are heavy, heavy, heavy But bomber. You can vary the tire pressure to meet the needs of the day Read low pressure wind there is loose snow and slush, or pump them up firm on dry roads with the occasional patches of black ice. I have stopped thinking about the hazards of days and just enjoy spinning away and taking in the scenery. Reflective strips on the side wall or a bonus feature that greatly increase my visibility of the dark mornings and nights. Completely satisfied!
Thank you for your feedback.
Great tire, low rolling resistance, considering.
Ordered these for my winter commute. Road surfaces vary from paved, mix of sandgravel, to hardpacked icesnow.
These tires perform well in all conditions, I haven't had issues even on glare ice. These wheels aren't made for freshly fallen snow. The tread is not agressive enough to clear freshly fallen snow and you'll lose traction.
Thank you for your feedback.
Solid tire, sounds pretty fun on pavement.
I like the studs. They sound cool on pavement but become totally silent with just a dusting of snow. Of course it hasn't snowed more than an inch since I purchased these... 4 stars for value could go to 5 once the snow and ice actually start to fly. Until then it feels as though I spent $50 for some sound effects.
Thank you for your feedback.