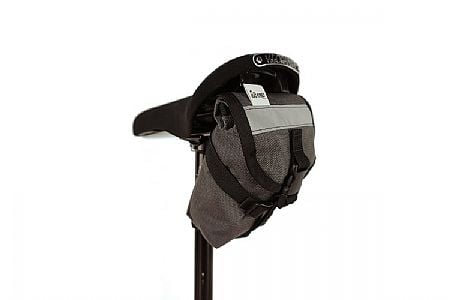 Solid construction, made in California
Cycling Enthusiast
Colorado
A perfect century seat bag. Without getting clever I can fit one tube, one tubolito, patches for both, a multitool, a 5nm Topeak Torqbox & 4mm bit , a quick-link tool that doubles as a pair of tire levers, 2 CO2 cartridges & inflator, extra quick link and valve core, plastic bag w/ latex gloves & a little bit of paper towel.
I have no trouble accessing the contents. I also have ample space for a tail light on my seat post. There is 15cm of post showing and this bag takes up half.
Makes me want to buy another to get rid of the piece of junk Topeak Wedge drybag on my commuter.
Thank you for your feedback.
Big cinch.
Casual Cyclist
bakersfield
The good This bag is big enough to carry an MTB tube, multi-tool, patch kit, tire levers, and there would still be some room left. The not-so-good Takes up all the room on the seat stem, luckily you can attach your rear light to it. Difficult to access the interior without unclipping it. Awkward. Preferred my old Specialized bag with a zipper (got stolen, this is the replacement.)
Thank you for your feedback.