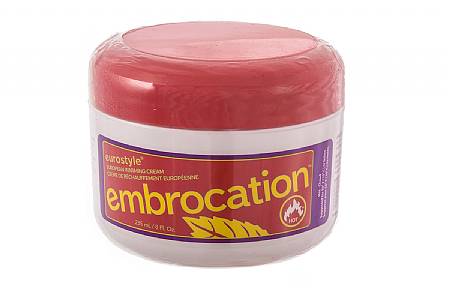 Nice and hot, keeps those legs toasty during rainy NW cyclocross races!
Pretty Hot
Cycling Enthusiast
Portland, OR
1 of 1 customers found this review helpful.
I use this during the cyclocross season and it works great. Keeps my legs nice and warm in the worst weather imaginable. I also use it on my legs if my muscles feel particularly tight and stiff, even in the spring when it's warm. Remember, less is more and make sure to wash your hands immediately after using.
Thank you for your feedback.
Hot means HOT!
Competitive Racer
Portland, OR
This stuff works as described. I have used it for NW cross racing and rides in 40-50 degree weather with good results. It is fine when you are moving and once I am warmed up, I dont really notice the heat, just that my legs are not cold. Be warned however, the stuff is hot, once you have stopped exercising the embro keeps warming and can feel quite hot particulalry while in the shower, not unlike a mild sunburn. The label says it comes off with soap but the warming does not seem to be effected and continues to last for at least 3 to 4 hours. Be careful when putting on with white clothing as it has a little color in it.
Thank you for your feedback.
Caution Makes burning legs for at least 18 hours
Competitive Racer
N. Central Texas
1 of 2 customers found this review helpful.
You can't wash this stuff off!
Apply it at 7AM for a training ride in 40-degree weather. Not much benefit felt. But when it gets warmer outside, watch out. Sweat seems to energize it.
And after the ride, prepare for burning legs past midnight and into the next early morning hours! No amount of washing and scrubbing will make this stuff go away. Trust me on this. . . . I've tried. Instructions say it comes off with soap and water. No, it doesn't. It stays and burns even more while in the shower trying to remove it.
I have an almost full tub of this stuff and really don't want to put it on my legs any more.
Thank you for your feedback.
Bought this to replace Vicks Vaporub
2 of 2 customers found this review helpful.
Ive been using Vaporub for decades. But it leaves an oily scum in the shower. Time to try something new.
I was expecting a feeling with application of this produce. Had no feeling of warmth at all. Temperature was 37 degrees this morning for our training ride. Legs didnt feel cold at all, so it appears that it works.
After 60 miles, ride over and I stripped and stepped into the shower. Warm water hit my legs. THATS WHEN I FELT THE EXTREME HEAT EFFECT. Washed vigorously with soap and water. Still hot. Shaved legs. Still hot. Skin continued to have a hot feeling after toweling off and even now, 6 hours later!
I guess its ok, hope the heat doesnt keep me awake at night. Legs still burning somewhat.
AND I have an 85 mile training ride tomorrow. Supposed to be cold in the AM. Done know whether to use more or not. May go back to Vicks.
Thank you for your feedback.
I am able to ride when Temps are in the 40's with shorts when using this gets really warm
Warm embrocation. Really warm!
Competitive Racer
Los Angeles
1 of 1 customers found this review helpful.
If you are new to embrocation these cremes warm up your legs and serve as a barrier to elements. I love this stuff. Very warm but not uncomfortable. Love it on cool ride days and even on runs!
Thank you for your feedback.