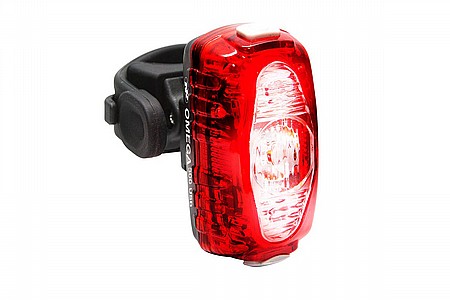 Tough looking on the outside, weak on the inside.
Cycling Enthusiast
Ft. Bragg, NC
4 of 5 customers found this review helpful.
NIterider was my light of choice when I began cycling. They have some of the brightest lights on the market and that is what I wanted for highway visibility. However, they are not very durable. I have had two headlights and one taillight and they all have failed for the similar reasons. The Omega 300 is very bright. Had I not had the issues with the brand, I would recommend again. It is easy to place on your bike and remove to recharge. It's everything the ads say it is. But what is not told is that the internal parts are very weak. If one buys a Niterider product I would suggest not drop it or accidentally put in the USB plug wrong. It will not last. I had no problems with the weather with this product or any Niterider product. They look sturdy on the outside but the interior is very fragile. If one buys this brand I would recommend to handle with caution and care.
Thank you for your feedback.
Excellent tail light
3 of 3 customers found this review helpful.
I've lost two tail lights this year due to sketchy mounts (and our terrible roads) and retired a third from old age (switch died). I used Niterider lights for commuting for 20 years and this tail light looked like it would work for my day rides and I trusted Niterider to make a sturdy mount. I'm pretty happy with it and my riding mates assure me it's bright.
Thank you for your feedback.
Added safety in all conditions. Brilliant!
Casual Cyclist
Louisville, KY
A fairly good wakeup call to traffic from behind
Competitive Racer
Huntington Beach, CA
Pros: For tarmac road riding. Extremely bright at some settings. Wish I could be more specific as to how to descrobe those settings.
Cons: Product instructions (in 4 pt. font) are vague and the labeling of the different settings is based on odd drawings, as opposed to a more precise/technical labeling using, say, a numerical system . The product videos and at least 2 YouTube vids are also vague, since there is no defined starting point for the sequence of light settings. None of this would have required a rocket scientist to get it right.
Also, a nagging problem with the light losing its horizontal position settings in real world riding. The pod dips down one to two notches while riding over the typical poorly maintained asphalt roads in my area. Took me 3 weeks to figure out a fix - there is a pivot screw which I partly removed, applied some blue Locktite to the threads and screwed it back in really tightly. Coud have been destailed on the manufacturer's video and in the user instructions, but it wasn't. Again, not rocket science.
Thank you for your feedback.
Very bright but can't stand the wet.
Bright A-F
Great flash options. One particular scheme contains a SUPER Bright pulse that will make your eyes REALLY uncomfortable if you happen to look at it accidentally. My wife insists on this one because she can see me from much further away vs my old Brand X tail light.
Thank you for your feedback.
Visibility
1 of 1 customers found this review helpful.
This is an excellent piece of gear in cycling. The light it emits is very bright and a cyclist can be seen from miles away!! When riding at night this is a must for your own safety. The only disadvantage with this one is the rider behind you because of the brightness it can impair their vision when they try to follow you!
Thank you for your feedback.
BRIGHT LIGHT!
Really bright light. It can actually be seen in the day time. I ride at all hours and it is important that cars be able to see me and not just wonder what is that funny little light. I also tour and in areas w narrow shoulders and dappled shade, I think it is important to have a light on that people can see. I was riding through the Pacific Coast one morning and stopped at a gas station for some food. The truck pulled up beside me and said that my light saved my life. He was driving around the curve that morning and all he saw was red and he slowed down instead of charging up the hill like he usually does. It is rechargeable w micro USB which seems to be the new norm (except with Portland Design Lights for some reason). However it is pretty efficient and I don't have to charge very often. I've gone all winter without needing a charge. Also it is easy to turn on and off. My previous Portland Deign Light was not and it was very frustrating- pretty much the main reason I replaced it.
Just a warning it will slip out of the NiteRide Tubus bracket. I slipped a rubberband around the top so that it does not jump out. Bonus- thieves can't figure out how to steal it either.
Thank you for your feedback.
Extremely bright.
Cycling Enthusiast
Tahoe, CA
Best rear light out there!
Experimenting With These For My TiLi wheelchair
These lights are just what I needed to stay visible in my wheelchair. On the road, my profile is pretty small and people do not expect to see me. With these daylight visible NightRider lights there is no problem with being noticed! Daylight or night seriously bright!
The mount is secure and designed for tubing, but it adapted easily to my backpack. I drove on some very bouncy roads with a lot of vibration, and the light stayed secure and operational. USB rechargeable, it is seriously convenient. Be sure to get a back up.
Local shop, great service, Highly recommended!
Thank you for your feedback.
Warning for wet climate riders
Cycling Enthusiast
Alpharetta, GA
4 of 5 customers found this review helpful.
Very bright, not impressed with the light modes for day use however
I was caught in a rain storm with this light, and now it has a mind of its own. The buttons dont work at all. I charge it, it will turn on in one mode, but wont turn off until the battery dies. 40 bucks down the drain
Thank you for your feedback.
Fantastic, bright tail light
Cycling Enthusiast
Downingtown, PA