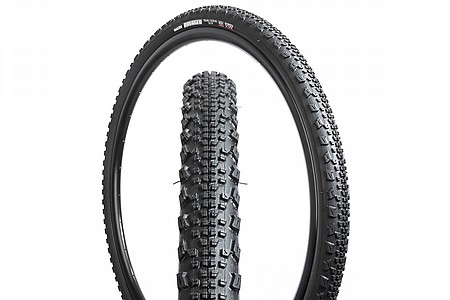 Fantastic Gravel tires
I switched to these bad boys from the WTB Riddler's, a litgher faster tire. I don't go on hardcore gravel that often, but I sent a route near lake jocasse in NC and holy moly was I glad I had these guys. These tires are sure footed and feel like a mini mountain bike tire. They suck up watts but it's a fair trade for the confidence they gave me. Now I have two sets of gravel wheels: a cheap aluminum set with these on it for intense gravel and a lighter wheelset with fast light tires for when I dont want to get dropped.
Thank you for your feedback.
A 42cm Tire that acts like a 2.2inch MTB Tire
Cycling Enthusiast
Eastern Mass
4 of 4 customers found this review helpful.
My Ravagers I got 3 years ago have over 500 miles on one of my CX bikes. I have 3 CX bikes and 3 MTB's. This tire is outstanding. Climbs loose dusty trails, climbs hard packed trails, climbs granite like no other bike I own. I lead 40 - 70 mile CX and MTB rides every weekend in the peak ride season. I take my fully rigid CX bike with these tires into LYNN WOODS of Eastern Mass, and love the looks on the full suspension bike riders faces when I pass them on very difficult climbs. I do not rock drop... that is stupid not designed for that, especially with no suspension. What I am saying absent or rock drops and jumps... no one can come close to the speed and climbing ability of these tires. The bike these are mounted on... I can accelerate up hills where other MTB's spin out. There is no end to the surprise of how well these tires perform. They are not as fast on Paved roads as other CX tires. If I want fast road riding and excellent trail performance, I grab my other CX bike with the MAXXIS Ramblers on it. The Ramblers are actually my favorite CX tire and I use that bike a lot more than this one, but when I want to show-off on the nasty trails of Lynn Woods, the bike with the 42c Ravagers is the one I use. PS Look for my Lynn Woods Video's on You Tube. I have 5 of them posted. Look up All day Adventures, Lynn Woods.
Thank you for your feedback.
Perfect combination of traction and roll
5 of 5 customers found this review helpful.
I have the Ravenger up front and a Rambler in the rear of my gravel bike. The Ravenger has great traction in corners on dirt and heavy gravel roads, but still rolls nicely on hard pack and asphalt surfaces. Highly recommended if youre spending a lot of time on rough or soft roads.
Thank you for your feedback.
Great gravel tire for my hybrid
Cycling Enthusiast
Belgrade, MT
I mounted this tire on my Trek hybrid DS4 for use on rough gravel roads. Mainly fitness riding, so far the Maxxis Ravager has been great. I am using it with a tube ,didn't want to mess around with the sealant. Mounted up fairly easy. Handling seems to be great on hard pack and loose gravel, loose sand is a little squirrelly but I am sure most tires of this size (700x40) would be. Bike on dry days only so not sure how mud use would be.
Thank you for your feedback.
Breat in dirt.
Cycling Enthusiast
Santa cruz
These are great tires in loose or muddy conditions. Not too fast on the road though. Its always a trade off- how much road vs. gravel on a typical ride. My solution is different bikes. Ha. The ravengers are on my 25% road bike and Schwalbe all arounds on my 75% road bike. The ravengers have a more supplemfeel,than the schwalbes- tubless and 38-40 psi .
Thank you for your feedback.
Great tire for loose conditions
13 of 13 customers found this review helpful.
A 'cross bike I recently purchased came with the 120TPI version of the Ravagers and they're perfect for the conditions I typically ride it, a mix of hardpack and loose sandgravelleavespine needles over hardpack. The 40mm size helps prevent bottom outs on the bonier roads and trails. They definitely feel soft and somewhat slow on pavement (I run them at 28/30 front rear for dirt/gravel/trails). If I was riding strictly hardpack and pavement, I'd probably switch to the Ramblers, but I'm very happy with the way these perform, as they provide a lot of grip and confidence in corners and the loose stuff. I'd rate them on par with or superior to the Conti CycloX King 42s in the loose stuff, with the Conti's being betterfaster on harder surfaces.
Thank you for your feedback.