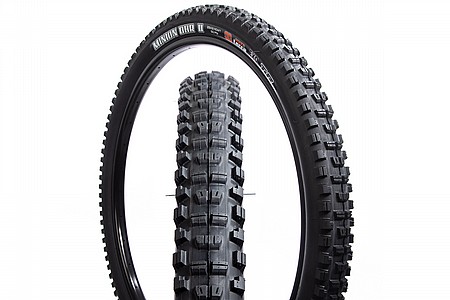 The Real Deal (Initial Impression)
Switching from a fast-wearing Dissector, I immediately noticed far greater grip and stability on off-camber New England rocks and roots - and in Dagobah mud bogs, the thing throws mud like a paddle boat. Maybe a tad slower than a Dissector, but worth it for me.
Thank you for your feedback.
traction, cornering, durability, even goathead resistant
Cycling Enthusiast
Boise ID
DHR II EXO
4 of 5 customers found this review helpful.
14 tear at sidewall after 1 week of use so sealant wouldnt plug. With 29-30psi on mixed, local XC trails so cant recommend these over standard EXO casing. Maybe EXO is better for preventing top tears instead? DHR II tread pattern a winner for aggressive trail riding, as as rear on most every condition throughout the year though, with maybe exception to buffed hardpack. DHF or Assegai front with DHR II out back, you cant go wrong unless a lycra bandit I suppose
Thank you for your feedback.