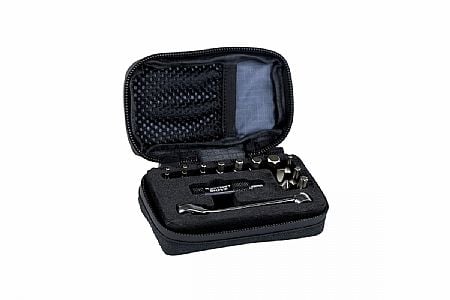 Fits well in Silca wrap
This is one of those reviews from a person who has not yet actually used the product - sorry about that. I am reviewing it because I bought it for emergency use and I hope never to use it. I was going to get a multi-tool, but I eventually chose this because with the removable bits it is extremely small and takes up very little space in my tool wrap. Its hex bits are the standard size and can be replaced from any hardware store screwdriver kit.
I tested it a little. It seems sufficient for minor roadside repair. Comparing with my torque wrench, I think you should be able to tighten things to 5 Nm with the tiny ratchet bar without hurting your hand much. For spots where the ratchet bar doesn't fit well, you can use the extender as a screwdriver base to quickly get things hand tight. The price is completely reasonable.
Thank you for your feedback.
You need this!
Cycling Enthusiast
Central Washington
1 of 1 customers found this review helpful.
This hex key ratchet set is a great tool to have with you at all times. It's small enough to get into tight spots where the regular multi-tool type cannot, and the various sizes cover just about anything you'll need. Plus it's small enough for a jersey pocket or camelback which makes it a winner!
Thank you for your feedback.