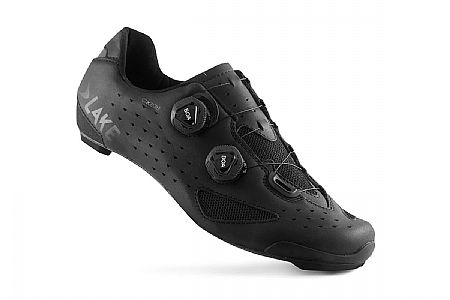 Great Comfortable Shoes
Cycling Enthusiast
Queens, NY
1 of 1 customers found this review helpful.
These are incredibly comfortable cycling shoes. While I purchased these on sale, they are absolutely worth the full price. I purchased these since I needed to finally replace my Time road pedal system. I had been using Carnac shoes(now extinct). Those were pricey in their time and were made of Kangaroo leather. I never thought I'd find shoes as conforming as those, but these Lake shoes likely surpass them. The leather upper in these shoes is soft and conforming, with a wider toe area than Sidis. The 2 BOA laces give ample adjustablity and fit. I have bunions that are no problem for these shoes. These shoes have a decent arch built in, but I still use my orthotics and have no issues with heel slide. I got the appropriate size by following the instructions on the Lake website. I recommend putting mink oil type leather protector on these to help protect the leather in the event you get caught in any wet weather. I am unsure of the overall durability of the leather, but as long as I get a few years use I'll be grateful. Time will tell.
Thank you for your feedback.
Comfortable, well built shoe
Cycling Enthusiast
Michigan
1 of 1 customers found this review helpful.
I bought these to replace a pair of CX 237s which were nice shoes, but had a couple of flaws or limitations. First, the boa closure on the 237 model did not have the micro adjust in the reverse (loosening) direction, the 238 has the micro-adjustable boa closure. The 237 also had a leather liner. Over the time I've had them this liner has cracked and torn from getting wet and then drying out, repeatedly. I never had that issue with other shoes, but it was what caused me to replace them. The 238 fixed this issue by making the liner synthetic. Other improvements are the toe and heal guards to reduce the likelihood of scuffing the leather. The shoe is vey comfortable, particularly if you like a roomy toe box like I do. The sole is a nice, stiff carbon sole.
Overall, Lake took a good shoe with good value for the money and made it quite a bit better! I'm very happy with it and highly recommend it.
Thank you for your feedback.