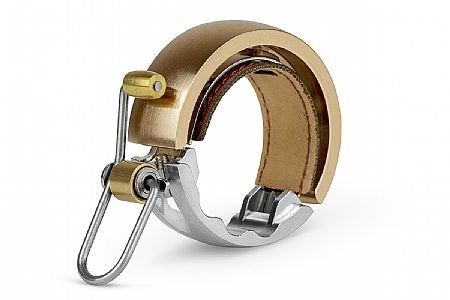 Nice Idea, but I had a hard time installing it
Cycling Enthusiast
Oakland, CA
1 of 1 customers found this review helpful.
I have this on my road bike on the left side of the stem. I like the streamlined shape of the bell since it sits low on my bike. I like the sound and I like that the bell is well constructed. When riding on rough roads, the bell vibrates and can make a light ringing sound. Installing the bell was tough and I would say it really is a tough bell to get on and work. The inner cable inserts are hard to use since it pushes the cables right into the stem which is adjacent to the bell. So in the end, I could not insert my cables on the inside of the bell as it was designed to do. Bummer. If the cables are routed on the outside of the bell, then you need to be very careful that they not touch the outside of the bell since that ruins the ring of the bell. Getting the bell positioned just right so that you can reach the ringer in a comfortable position and not have the cables rubbing on the outside is very tricky. So I am using the bell, but probably would not get another one.
Thank you for your feedback.
No one will even notice it on your bars...
Cycling Enthusiast
Wisconsin
Pretty stylish, fits well on drop bar
1 of 2 customers found this review helpful.
I wanted a bell that fit my cockpit without having an obtrusive hunk of black metal placed above bar level. This bell appears to be well made and it looks nice. The spring loaded mechanism that strikes the bell is easy to find with your thumb and it has a nice ring. It is loud enough to inform other trail users or the occasional bear. I cant believe how many people comment on it when they see it!
Thank you for your feedback.
Clean looks & awesome sound
Clear tone
Cycling Enthusiast
El Paso, TX
4 of 4 customers found this review helpful.
I use this on my gravel bike because I frequently ride on paths where there are walkers and runners. If they aren't wearing headsets, the clear tone of this bell gets their attention without being offensive. The metal hammer on this bell gives a slightly crisper tone than the version with a plastic hammer. Because of the location of the cable cutouts, I had to mount this with the lever forward and have to use my index finger to ring it instead of my thumb. I like the unobtrusive look on the bike, many don't recognize it as a bell.
Thank you for your feedback.