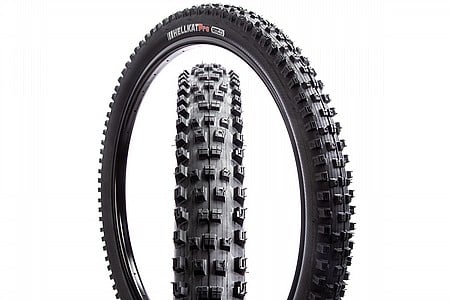 User submitted reviews
Review by Anonymous
Tire and service were excellent
Tire appears to be amazing piece of gear. Unfortunately the tire does clear the arch on my 7" travel x-fusion havoc fork and it is past return period(was on 30 day southern ut mtb / overlanding trip immediately upon receipt), thus now an ebay item i guess.
Thank you for your feedback.
Review by mootsrider
Fantastic Traction!
Cycling Enthusiast
Bend Oregon
I purchased these as I needed a tire with better traction across a lot of riding conditions. Was a little concerned about if they would roll too slow. Have about 300 miles on them now and these tires have fantastic traction! You can really depend on them when railing into a corner fast and on rough stuff. They are a little slower then a tire that is made for speed but then again made for speed tires do not have good traction. I noted when you get over up to about 4 or 5mph these tires roll very fast! I was very surprised at how fast they roll for a aggressive tire. They are holding up very well and the weight is no more then some other tires that are only 2.3 in size.
Thank you for your feedback.