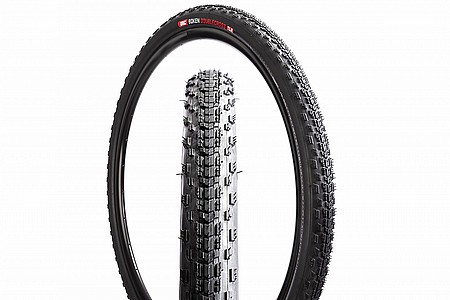 Best all-around gravel tire.
Cycling Enthusiast
North San Diego
8 of 8 customers found this review helpful.
I have ridden both the 42mm and 38mm versions of this tire and they are excellent. The tread gives tons of grip in the loose stuff while providing low rolling resistance on the road. Before riding the Doublecross I had been on WTB Resolute (42mm), which I consider an excellent tire. The Doublecross are just a bit better in every category. More grip, less rolling resistance and longer wearing. I typically got 1,000-1,250 miles out of the WTB and I have gotten 2,000 miles out of the Doublecross. They are absolutely bulletproof.
Several friends also ride this tire and the one complaint that I have heard (from only one person) is that they lack "suppleness". I think that is fair. Something about the rubber compound just makes it a bit harder. To my mind and most other people that I have talked to, there isn't really a negative since they still have great grip in the dirt.
The 42mm is the only tire I am riding now. Probably the only reason to go down to the 38mm is if your bike can't fit the 42mm.
Thank you for your feedback.