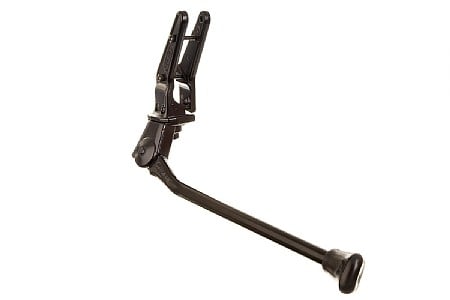 Sturdy attachment, holds the load
Lightweight kickstand to keep your bike upright and free of scratches.
Compact for tight frame
Casual Cyclist
Portland, OR
This stand was perfect for my bike, which had too little space at the seat tube for a conventional stand. It was easy to install and seems nicely secure so far. Might not be so good for a heavier frame, because it balances asymmetrically at the rear wheel. For my aluminum frame, in this case, it is just fine. Folds neatly out of the way.
Thank you for your feedback.
broke after 2 yrs
Daily Commuter
Washington, DC
Just what I needed
Cycling Enthusiast
Quincy, IL and Dunedin, FL
Excellent kick stand but bolts rust and need replaced with stainless steel bolts.
Cycling Enthusiast
Choctaw OK
5 of 5 customers found this review helpful.
Kickstand works great on my recumbent bike. After riding in the rain, the four mounting bolts started to rust so I replaced them with stainless steel bolts. If not for that I would have provided a 5 star rating.
Thank you for your feedback.
Easy to install, works great.
2 of 2 customers found this review helpful.
We bought 2 to put on our touring bikes. Could only use one without a slight modification to the 2nd bike. The kickstand mounts to the chain stay at the same place the spare spoke holder bracket is located. We don't carry spare spokes so we carefully ground down the spoke holder and mounted the kickstand. Our other bike has no spoke holder and the stand was very easy to install on that bike. They seem to work great for the times when there is nothing to lean against.
Thank you for your feedback.
Great Quality
Cycling Enthusiast
Central Oregon
Rear mount kickstands to support a pannier bearing bike
Easy to install and adjust, design will fit many types of frames.
Casual Cyclist
Southern Illinois
Works fine, quite easy to install.Makes a stable platform for t6he bike
Casual Cyclist
Eastman, GA
3 of 3 customers found this review helpful.
This item is a little more expensive then the center mount unit but if you cannot use the ctr mt then this one will do the trick, installation is well within most riders capability. Does a great job for what it was design to do.
Thank you for your feedback.
Great item, bought two in last year and onehalf.
Practical Well Built Kick Stand
Cycling Enthusiast
Murrieta CA
25 of 27 customers found this review helpful.
This kickstand fits my Specialized Sequoia with Shimano cranks. Regular kickstands that mount under the crank area will not fit. This one mounts at the very rear triangle and has some cushining material that keeps it from scratching the bike itself. Only issue is that you need to stabilize the bike when first parking it as the tail end tends to move around a bit. Not a major issue. I know 'roadies" NEVER ever use a kickstand, but I use my bike to shop and do errands, thus it is important to me to be able to easily park it.
Thank you for your feedback.