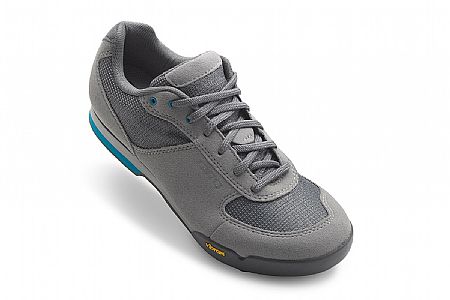 Perfect shoes! Order a bit large as they run small
Central Coast of California
1 of 1 customers found this review helpful.
Love these shoes. Very light but sturdy. I had to exchange for larger size. I normally wear a 38 but ended up with a 41. So not sure what the deal is there. Shoes are excellent for the price. Love them
Thank you for your feedback.
Terrific Shoes for SPD pedals
3 of 4 customers found this review helpful.
I really love these shoes. It was very easy to install the cleat. They don't look like cleated shoes, and are comfortable to walk in. They go with anything you would be wearing. And you won't be waddling in these shoes like you would with other cleated types. Nice! Highly recommend these.
Thank you for your feedback.
Really, really like
Casual Cyclist
Central Indiana
I actually love these shoes. I don't ride any marathons, just the trail and neighborhoods so I didn't need anything super expensive. These fit the bill. They are comfortable, look nice and tennis shoes don't make for a good bike shoe. Sometimes when I get home wear around the house forgetting to take off. I am happy with the purchase and the price because I believe everyone should have a pair of biking shoes.
Thank you for your feedback.
My Wife loves this shoe
Cycling Enthusiast
Vancouver wa
Comfortable for walking, painful on the bike
Cycling Enthusiast
Grand Junction, CO
1 of 1 customers found this review helpful.
These shoes look great and were comfortable around the house, but they did not work for me riding. I'm not sure why but after 30 minutes of riding I had some of the worst hot foot I've had in years.
Some of my favorite cycling shoes have been Giros and I've never had this problem with any of those other models.
Thank you for your feedback.
Good value - sizes run small
Cycling Enthusiast
Phoenix
2 of 3 customers found this review helpful.
My wife has used other models of Giro shoes for several years. I bought these for but had to return because they were too small. Exchanged for next bigger size and we're happy.
Thank you for your feedback.
Built for a woman but Manly enough for this old dude.
Cycling Enthusiast
Sacramento
5 of 5 customers found this review helpful.
Converted a dual mountain bike into a bullet proof street cruiser. Wanted a shoe that could clip in without shouting Bike Geek. I am a 57 year old man with small feet - I normally wear size 7 mens. With help from Customer Service Rep - I bought a women size 9 (EU41, UK7). The shoe is black with mustard colored yellow accents so it does not scream GIRL! It is stiff enough on the type of casual 30-40 mile bike rides I use them for ... they do the job, however, I love how easy and discreet the shoes are when you are off the bike. I have hard core carbon fiber racing shoes for my high-end Trek Madone and a cheaper hard plastic MTB shoes for my spin bike. The purpose of these shoes was to marry my mountain bike conversion with dual purpose pedals (Shimano PD-A530 - clip on one side comfortable for non-bike shoes on other side) with a discreet yet functional shoe.
If you are looking for performance shoe ... obviously this is not the shoe for you. Likewise if you want a shoe that you can jog or hike in ... this is also not for you. If you want a stiff in the saddle shoe that is disguised as nondescript casual shoe when walking short distances ... bingo!
Thank you for your feedback.