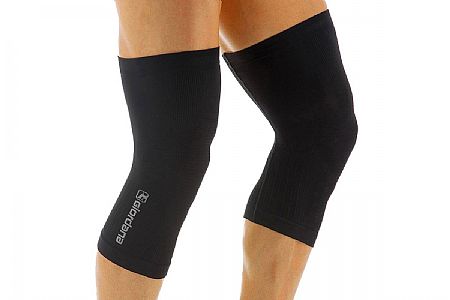 Nice tool for chilly rides
Cycling Enthusiast
Portland, OR
I still haven't figured out how to wear these without looking like a dork, but these are a great kit addition when it's just a little too cold for shorts. The knitted fabric provides just enough oomph in the chill but doesn't get too warm as it (and you) warm up a bit. They seem to stay put under my bib short hem - I haven't had any trouble with them sliding down.
Thank you for your feedback.
i love these knee warmers
Cycling Enthusiast
Rancho PV, CA
1 of 1 customers found this review helpful.
i wanted a pair of light weight knee warmers - i live in southern CA - and find myself getting too hot in the thermal types. plus, i'm tall and thin, and hate it when the knee warmers slide down below the bottom of my shorts. these are very long, and very comfortable, and stay up!
Thank you for your feedback.
LIghtweight, reasonably warm, durable
Competitive Racer
SF Bay Area
Have owned a pair for a few years now, bought a second pair for my partner. They fit and feel identical, despite mine having been through the wash for years.
They do a really good job keeping the CA chill (down to the 50s) off your knees. They do not actively provide warmth, but keep the chill away and keep you in the just right range throughout the ride.
Fit well and do not slide down, though they do 'settle' - the top band climbs down to an equilibrium 10-15min into a ride. Easy to remove even while riding.
Thank you for your feedback.