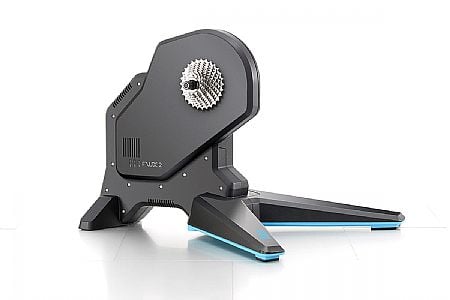 Solid
2 of 2 customers found this review helpful.
Has been a great trainer with only a couple instances of frustration which may just be down to connectivity issues. Have had a couple brief instances where the tacx lost a connection when riding on Zwift but reconnecting via the app remedied the issue. One time, after pausing a Zwift ride, the trainer would not reconnect, no matter what I did. Turned everything off, including my wireless router to reboot Zwift/WiFi connection, and nothing worked. Unplugged the tacx overnight and it was back to normal the next day. I've not had that issue again, but I was a little nervous. That was about a month ago, and I've been using this 5/6 days a week since without any other issues, so I'm hoping it was just a hiccup.
Outside of that, the Zwift erg mode communicates well with the tacx and is a great upgrade from a wheel on smart trainer. I've been enjoying it.
Thank you for your feedback.
Great trainer for Zwift! Super easy set up.
Cycling Enthusiast
Golden, CO
1 of 1 customers found this review helpful.
I primarily use the TACX Flux 2 for riding in Zwift. I paid it with a 4K appleTV - and since it has cadence, power and is controllable all on one bluetooth signal, you can use your favorite bluetooth heart rate monitor too. AppleTV only allows 3 BT connections at once for Zwift. When you first set it up, you have to select the trainer for each of the three- power, control and cadence - but then it is super easy from there. I haven't been able to push this over 880 Watts, but it is supposed to go well above that. I guess I'll have to get stronger to test that out.
Thank you for your feedback.
Product is great. Owned wheel on trainers before but direct drive is 1000% better. Built well and almost silent. Accurate data and manages grades up to 16%. Be sure to grease the cassette well othe
Cycling Enthusiast
Syracuse, NY
Makes indoor training fun
2 of 2 customers found this review helpful.
Great trainer. I've used it principally on the Zwift platform but will try a few others. The ERG feature is a great simulation for climbing. Set up and use are extremely easy. It is very quiet compared to the old trainer I've been using for the last 20 years. No problems so far after six weeks of use. My only complaint is that I wish the trainer had an on/ off switch. You need to pull the plug to shut it down.
Thank you for your feedback.
Works great
3 of 4 customers found this review helpful.
I personally have the Tacx Neo and then I bought this for my mom. It works great. Im just an intermediate rider so probably didnt need the Neo 2 and this would work just as well. I havent tried the Wahoo ones so I cant compare, but overall my recommendation is to definitely get a smart trainer and Zwift, its fun.. I think either Tacx or Wahoo will work good
Thank you for your feedback.
Better than my wheel-on trainer, but not as good as I expected
Cycling Enthusiast
Boulder, CO
6 of 6 customers found this review helpful.
Got the Tacx Flux 2 direct drive trainer about six weeks ago to replace a wheel-on smart trainer (Wahoo Kickr Snap). Wanted more consistent resistance simulation and power measurement, which varies slightly with tire pressure and flywheel adjustment on a wheel-on.
The Tacx Flux 2 was easy to put together, easy to get the bike attached, and easy to connect to my training app (Rouvy) on a Windows PC. Did the calibration with both the Tacx app and the Rouvy app. The calibration witih Rouvy gives a strange result -- reports number of rotations, and says it was zero...well, it feels OK, but I don't have a power meter to check. While riding, the changes in resistance corresponding to the route's grade seem to be too abrupt, not realistic.
The one significant disappointment I will note here is that the range of grades simulated by the Tacx Flux 2 seems to be well below what was advertised (which was up to 16%). I don't feel any increase in resistance after about 8-9% even though my speed drops at constant cadence and gearing when I ascend a grade of greater than 8-9%. Buried in the support page on the Garmin web site (Garmin bought Tacx) is a note that the resistance corresponding to grades is calculated for a 143 lb rider, and if your weight is greater than 143 lb, you will not get the full range of grades (up to 16%) simulated. Well, I'm about 190 lb in the winter, and the resistance seems to max out at about 8-9%. I am wondering how they decided to report the grade range for 143 lb, which I would guess is near the low end of the weight range for their users.
Overall, this direct-drive trainer is an improvement over my previous wheel-on trainer, but it doesn't provide all that it was advertised to provide.
Thank you for your feedback.
Great knee trainer and wildfire machine
Cycling Enthusiast
Beaverton, Or
1 of 3 customers found this review helpful.
I bought the Tacx Flux 2 to aide in recovery from knee replacement surgery. It has been great. I knew up front that getting back on my bike would speed my recovery in terms of flexibility and strength. The Flux 2 and various training programs have combined to put me weeks ahead of the surgeon's expectations.
I had graduated to riding on the road and I was about to start ramping up my mileage when wildfires turned the air toxic - worst air quality on the planet for several days. The Flux 2 came through with longer training sessions.
Thank you for your feedback.
Tacx Flux 2 direct drive trainer
Daily Commuter
Nashville, TN
5 of 6 customers found this review helpful.
After about 5 years of using a very basic fluid trainer and dealing with wheeltireskewer changes, this direct drive smart trainer has been an incredible gift to my training at home. The erg feature is an outstanding way to stay on the prescribed power for workouts in Zwift or TranerRoad and other apps. It took no time at all to assemble this thing and pair it. It is very sturdy and I haven't worried about getting out of the saddle for hard efforts andor climbs.
Thank you for your feedback.
Great Trainer for the Money!!
Cycling Enthusiast
Hampton, VA
2 of 3 customers found this review helpful.
I have not had any trouble with this trainer at all so far. I use it with Zwift on my computer with an ant extension cord and it syncs up quickly and it pretty accurate for a direct drive! Loving it so far!
Thank you for your feedback.