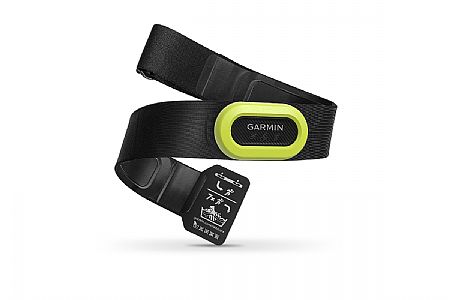 Nice upgrade
I bought this HRM to replace my old HRM Run that started to act up during my runs and rides. I use it 4-5 times per week and connects to my Fenix watch or my bike computer without any issues. I also like that I can see the battery level in the Garmin Connect app.
Thank you for your feedback.
So far, so good
1 of 1 customers found this review helpful.
My Garmin dual hrm pooped out after a year, and no battery replacement nor connection cleaning would resuscitate it. I decided to give the pro a try. A few months in and I've not had any issues, drops, etc. I like that it is water proof (even though I don't wear it to swim) as it makes cleaning very easy.
I'm not a huge fan of the price, but if I can get a couple years out of this one, it will be cheaper than re-buying the dual and potentially seeing it fail in another year, so time will tell.
Thank you for your feedback.
No data dropouts, finally...
Cycling Enthusiast
Bloomington, MN
3 of 3 customers found this review helpful.
I wasn't sure I *needed* another HRM, but I have gotten increasingly frustrated by data dropouts. I thought it was related to my battery, but despite changing it (in all three modules), I continued to have issues. I decided to buy the granddaddy of all HRMs, and WesternBikeWorks had the best price (as they often do). When I received the HRM, I was a little confused. I didn't realize that this module does not detach from the strap. It paired quickly with my head units (using Ant+) and I have used it several times since then. I have had no data drop outs, from what I can tell. Previously, my HR data was full of holes, but now I have a nice solid graph. Care for this one is a bit different - you rinse it after each use, then hand wash after every 7 uses or so. Replacing the battery will be easy - just peel off the yellow thing and it will become obvious. I like that this HRM measures running dynamics (still exploring this) and I'm finally getting consistent HRV readings. For me, it's worth the premium price.
Thank you for your feedback.
Perfect product for my needs
Cycling Enthusiast
Riverside CA.
Nice, not cheap
3 of 3 customers found this review helpful.
I purchased this after my Garmin HRM run started to act up. The unit brings new features that I highly desired and have been anticipating. So, what'd I like and what'd I gripe about.
First and foremost the unit brings Bluetooth compatibility with up to two devices at the same time in addition to ANT. This is perfect for people who are using an indoor trainer with apps such as Zwift on their iPad. The unit continues to provide running dynamics, supports memory for swimming efforts, and most of the previous features of Garmin tri straps. Garmin running dynamics are still supported, so if you're a data nerd who loves to see your vertical isolation, stride length, vertical ratio and ground contact time it's still there for you.
Although Garman claims that battery life should be the same as HRM run in my experience it is diminished maybe it's from using Bluetooth in conjunction with ANT. The first couple months the unit worked flawlessly and in the last couple months the unit has started to suffer from more dropouts. I do love the strap is very elastic and keeps close contact with the skin. To my knowledge I haven't used the Bluetooth to update the unit from my phone but I'll keep my eyes open and release a new review if things change. If using the unit in the pool, because the strap is more narrow if not covered by a swim skin, suit, wetsuit, etc, the band has a tendency to fold over itself if you kick off a wall.
I like the unit and this should be the baseline for all units moving forward given its capacity to communicate with other tech, support of Tri's and weight.
Thank you for your feedback.
Easy Connection and Setup with All my Devices!!
Cycling Enthusiast
Washougal, Wa
I was tired of the Wahoo HRM constant quick battery drain and trouble connecting with Zwift. Decided to upgrade to the Garmin HRM-Pro. So far I have been VERY pleased with how quickly and easily it sync's with Garmin Edge 1000, my forerunner 610 and ZWIFT!!! The strap is much more comfortable for me than the Wahoo HRM. Wahoo seemed kinda cheap. I cannot rate the other features -running dynamics or stored HR activities because I have not used them. This HRM was more than I would normally spend but so far I am very pleased with my purchase. The unit seems well made...now gotta go workout!
Thank you for your feedback.
Great product, highly recommend.
Competitive Racer
Naples, FL
Great little comprehensive sensor
Competitive Racer
Northeast Montana
1 of 1 customers found this review helpful.
This HRM truly does it all. Accurate HR tracking, check. Wanna track without a watch? Check. Keeping track of running dynamics, check. With cursory use of this tracker, I'm pleased with it's data. My only gripe would be the attachment. I do prefer the "up-front" button attachment of the Wahoo Tickr compared to the side-buckle Garmin products, but this is a personal preference.
Thank you for your feedback.