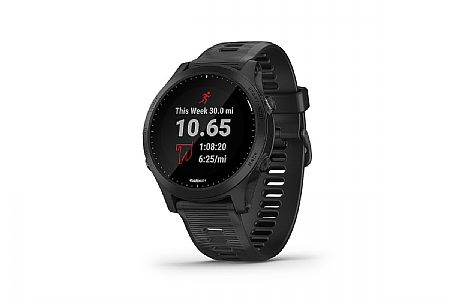 Basically New
1 of 1 customers found this review helpful.
I went online searching and hoping for a great watch. I've been waiting and waiting for the Garmin 945 to go on a good sale...well, I'm still waiting, which brought me to this website. I saw the NHO and was curious as to why this one it cheaper. It is a refurbished watch. I was skeptical at first. However, I decided to give the watch a go and try it out.
After about a month of use, I can see no wear or tear in the watch, the screen is perfect, the buttons feel perfect, and the watch works perfectly. I even used it in my first Sprint triathlon and worked perfectly and was extremely comfortable.
So if you are interested in the 945 I would save my money and buy the refurbished version instead of a brand new one.
WesternBikeworks.com Comments
The NHO products from Garmin are a "Newly Hauled Over" product, meaning they are 100% factory refurbished and carry the same warranty as a brand new unit, which is essentially what you are getting!
Thank you for your feedback.
Great over all watch
0 of 1 customers found this review helpful.
Love the customizability of this watch, from the screens, to the natively stored audio.
The durability and battery life are top notch, lasting a few days without charge and syncs with Garmin connect effortlessly
This watch was refurbished and I can't see anything wrong with it. I did buy a screen protector for a couple bucks on Amazon i like.
The watch band is very comfortable and i don't notice it sleeping, which is nice because it does sleep tracking.
I do wish it had automatic podcast updates and easier audiobook connection, which i heard was possible but i haven't been able to get to work yet since i have a different account for audible than my Amazon music account.
I also bought a stand-up charger for this, otherwise it's charging face down.
Fitness tracking is good and I've shaved 1.5 minutes off my mpkm (results may vary)
Thank you for your feedback.
Garmin Forerunner
1 of 1 customers found this review helpful.
Amazing watch, tons of tech packed into a small package. Great for tracking activities, seamless syncing to Strava via Garmin Connect, and battery life that makes my Edge 530 seem like a joke. Refurbished device bottomed out on battery once, but otherwise has been great. This is a great watch for a serious athlete who doesn't care about meeting step goals, but improving their FTP or V02 max.
Thank you for your feedback.
Best deal overall
1 of 1 customers found this review helpful.
Western Bike Works offered the best deal for a Garman 945. I used six Apple Watch units to date and I am now a convert. Garmin is the sports watch for serious athletes. Western Bike Works offers deals for those who are looking for value.
Timely delivery high-quality product would buy again.
Thank you for your feedback.
The best watch for running, but lacks the seamless experience of a Apple or Samsung Watch.
I don't like that I need wifi to add spotify music to the watch. Why can't it transfer it over straight from my phone. Also, why can't i transfer over my own music from my phone to the watch. Feels like jumping through hoops.
Thank you for your feedback.
Just as good as buying a brand new watch.
Cycling Enthusiast
Portland, OR
Great value
This watch is exactly what I need. The battery lasts more than 12 hours in constant tracking mode. I don't know how much more because I've only run 50 miles at a time. I don't always trust the wrist heart rate readings, but a chest strap is available.
Thank you for your feedback.
Excellent product and quick service.
Casual Cyclist
New Orleans, La
The watch has a wide fit selection, which is nice to have the ability to fine tune it throughout the day. My only complaint, the start/stop button tends to rub against my wrist and turn it on randomly throughout the day.
Thank you for your feedback.
Love it...
The watch is so much lighter than any other I have had. The battery performance is fantastic - Completed a 130 mile race and still had over 50% battery left (linked to power meter). Garmin Pay is a nice to have feature but I do not use it that often as my phone is right there for Apple Pay. Custom screens and home screen are great too. I have nothing bad to say about this 945 - 5 stars.
Thank you for your feedback.
The watch was shipped quickly, and it works great! The battery life is amazing, and I've been enjoying using the watch for the past month.
Like new
by
Cesar Henrique Dalquano
BRAZIL
Great so far
Competitive Racer
Bel Air, MD