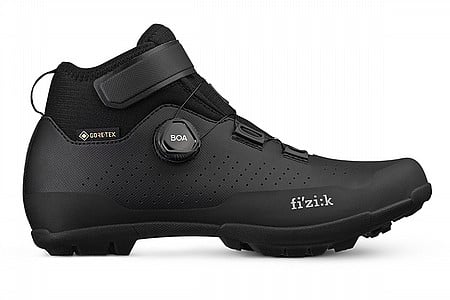 User submitted reviews
Review by Anonymous
Not warm enough
These are a great shoe concerning construction etc. I sized up .5 size from my summer FiZik shoes to fit a thicker sock.
Waterproofing is good, but these are just not as warm as I wanted them to be. Anything below 45 F and my toes are frozen. I have been using toe covers and those help, but for something being advertised as a winter shoe I expected more in the warmth department
Thank you for your feedback.
Review by Anonymous
Comfortable mild winter shoe/boot
Competitive Racer
Minnesota
2 of 2 customers found this review helpful.
For a Fizik shoe this does have a generous fit, not as narrow as most. Shoe is comfortable and certainly repels water/snow. I expected/hoped the shoe would be a bit warmer, but this may be down to the sock one pairs it with. A thinner merino wool sock is good down to maybe 25-F or so, ideally I would throw a thicker sock on for colder days but that made the shoe a bit too tight for my liking. I would say that this shoe's primary function is to keep the foot dry during the shoulder season and extend into a mild winter.
Thank you for your feedback.
Review by Scott
Best In Every Feature
1 of 1 customers found this review helpful.
Been riding since 1970's with wool socks, tin foil, plastic bags, GoreTex socks and shoe covers. So with that I went for ride Jan. 1st with temperatures reaching 35 degrees and 10 mph winds. Never felt a bit of cold discomfort and fit with heavy wool socks was superb. I forgot the puddles and snow while riding, so check off waterproof also.
Thank you for your feedback.