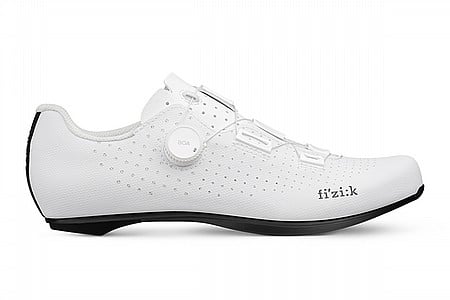 A Well Designed and Good-Looking Shoe
Cycling Enthusiast
Southern California
I waited to put 165 miles on these to break them in before offering my two cents. I really appreciate the narrow footbed and the stiffness of this shoe. The Li2 BOA dials are a breeze to operate and easy to adjust during a ride. The inside heel-portion has an interesting anti-slip design that helps to secure the back of the foot inside the shoe. On the sole there is a port to allow ventilation at the front of the shoe. I am really happy with these shoes, and I can be very hard to please. They have been easy to clean after each ride: I use bleach-free Clorox Scentiva wipes which are stated to be safe for vinyl surfaces, and the wipes keep my white shoes looking great.
Thank you for your feedback.
Great shoes from Fizik
Cycling Enthusiast
Philadelphia
I bought these a couple weeks ago to replace some Giro Empire lace ups. The Tempo Decos is billed as a 2nd tier road shoe, maybe due to the single boa dial. It has a great stiff sole and the single boa tightens things nicely. I have a few hundred miles in them and they needed very little break in (just the tongue was a little stiff, took 1 ride). If you like your cleats farther back like I do, this is more adjustable than most other shoes with a moveable cleat base. Nice and light, very comfortable and they have a bit of sole ventilation also. I am a 44 in sidi and giro, followed the chart and fit a 43 in Fizik. Highly recommend.
Thank you for your feedback.