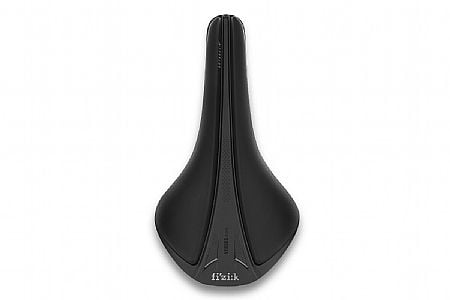 Comfortable, stylish and light
Cycling Enthusiast
Northern Ohio &40where it rains all spring&41
Comfortable, stylish and light
Cycling Enthusiast
Northern Ohio &40where it rains all spring&41
Excellent product excellent seller
1 of 1 customers found this review helpful.
This saddle worried me when it arrived as it appeared too bare bones to provide appropriate comfort and support. My first long ride on it set me straight. The padding is thin but effective and the saddle is designed to support you at your sit bones, not other spots that get sore or chafed. Well designed and well built. Western sold the saddle at a good price and with good service. Cheap shipping was slow but hey I chose cheap shipping!
Thank you for your feedback.
Possible design change?
I bought this saddle to replace an older version after a crash because it was my favorite. Unfortunately this one has less of a 'swoop' shape than my older one, resulting in a flatter saddle that I just don't get along with.
Thank you for your feedback.
Ouch!
Cycling Enthusiast
Savannah, GA
4 of 4 customers found this review helpful.
I like Fizik saddles and have been on the normal Antares for over ten years. The first two rides on this saddle were great but by the third ride it became painful. The channel edges are too sharp and feels like I'm sitting on razor blades. It gave me a very painful raw sore spot. The edges should be more rounded and the surface textured as you will slip and slide and that makes it difficult and distracting during hard pulls, fast climbs etc.
Will have to take some days off cycling and swap back to my normal Antares.
Thank you for your feedback.
Simple is Good
Cycling Enthusiast
Kenai, Alaska
1 of 1 customers found this review helpful.
There are limitations reviewing a saddle, since what works for my anatomy may not work for yours. That being said, I really like this product. Like most riders, I'm accumulating a decent pile of saddles that I don't use, but this one provides a comfortable ride. I've used it on Ironman, long gravel rides, many century rides and even put it on my mountain bike after a lesser, allegedly mountain saddle gave me butt sores. No butt sores with the Fizik, despite the mountain saddle having a squishier feel.
I bought my first Fizik Antares one with carbon rails, attracted mostly by the low weight, and liked it so much I got a second, but with the Ki-um rails. The smaller diameter metal rails are easier to install and adjust. The weight savings wasn't that big of a deal (to me).
The pressure relief channel works great. Every bit as well as a full cut-away.
Holding it in your hand, it's very minimal (a compliment), and the cushion looks like it won't be comfortable, but it is.
Also, I like the integrated clip for the fizik tool bag for road riding. Less so on gravel, because it's hinged and bounces a bit.
I gave it a high-value rating because compared to other saddles in this weight range it was relatively inexpensive.
Thank you for your feedback.
Excellent long ride pressure relief
Cycling Enthusiast
Los Angeles
I used a Tubo saddle for decades, but I eventually succumbed to the pressure on longer rides. I tried several saddles, Cutouts, and other technologies which encourage better blood flow. This saddle worked best for me, and I would definitely recommend it.
Thank you for your feedback.
Its a decent one.
It has a nice balance between padding and firmness. The edges of the saddle are a bit sharp and can sometimes feel awkward if not uncomfortable. It found a permanent home on my track bike - my least ridden bike. Its well-made as expected.
Thank you for your feedback.