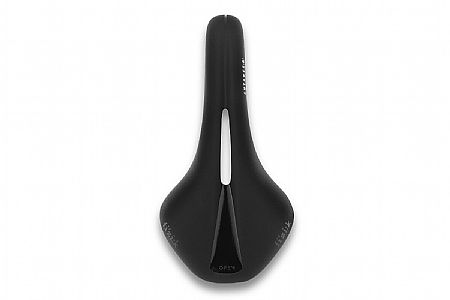 Knowing your sit bone width is important.
Cycling Enthusiast
Lake placid,NY
2 of 2 customers found this review helpful.
Bought this in a 140mm width, with sit bones at 110mm and it's perfect for me. Very comfortable on long rides compared to Prologo Scratch2 PAS Saddle which is good for short crit races.
Thank you for your feedback.
excellent saddle
Cycling Enthusiast
Toronto
A few bike fits and neumerous saddles (Specialized Romin, Toupe, Power, Power Arc, Shimano Pro Stealth) I arrived at Fizik Antares R1 Open. All previous saddles caused me pain and sicomfort. Riding was not fun. After reading a research paper on Fizik saddles conducted by Fizik in collaboration with CU Boulder, prompted me to take a chance and buy this Fizik saddle in regular size (142mm). First ride of nearly 3 hours and I am beyond happy with the the shape the padding and the non-slip textured surface....most importantly, no pain!!!! The service and the expediend delivery were a bonus in the whole experience of searching for the right saddle. Thank you Fizik and thank you Westernbikeworks!
Thank you for your feedback.
Excellent saddle, much better than the former R1 without cutout!!!
I've been using Fizik Antares for several years, mostly the R1 carbon braided version. I've recently bought the new open style version for my gravel bike. So much more comfortable than my non-cut out version that I sold that one off and replaced it with a second R1 open version saddle.
I feel the open version padding to be more comfortable and the benefit of having the open version works well for me. Great buy, worth looking into if you're a fan of the non-open version.
Thank you for your feedback.
Comfortable seat for long rides...
Cycling Enthusiast
Rochester, NY
Not for me
Cycling Enthusiast
Berkshires
1 of 1 customers found this review helpful.
Obviously saddle fit is highly personal, and this saddle is great for some folks, but not me. I had an Aliante Gamma, which I really liked, on my gravel bike, but I went with this saddle for my road bike because of the Fizik fitting guidelines. I found this saddle hard in the wrong places and uncomfortable after mile 30 on longer rides. My sit bone measurement is 114mm, btw.
Thank you for your feedback.
Nice comfortable road bike saddle for racers or high milage riders
Competitive Racer
Upstate NY
3 of 3 customers found this review helpful.
Bought this for my road bike. Replacing another Fizik Antares model without a cut out. This saddle has been a more comfortable. I like cut out and the cover on this one. It is very light and has the correct amount of padding. Important to set it at the right angle on the bike as the back is slightly higher than the front.
Thank you for your feedback.
Excellent upgrade
Cycling Enthusiast
Frederick, MD
I've been using a Romin Pro (155 mm) for the past 4 years and was glad to have made the upgrade to the Antares R1 (large) when it was on sale for $130. It's a bit lighter (although I couldn't tell the difference when I'm riding) than my old saddle, but definitely more comfortable. My only minor complaint is that I wish that the nose was around 1-2 mm narrower.
Thank you for your feedback.
I hate it
Didn't work for me. Feels like your sitting on two golf balls and you also move around a lot on this thing. Its hard to maintain one position. I also hate how there is a drop from the back of the saddle to the flat part in the front. This makes it really hard to get comfortable and stay in the same positoins. I gave it some time but the saddle just continues to irk me.
Thank you for your feedback.
Comfortable
3 of 3 customers found this review helpful.
Very happy with the feel and comfort of this saddle. Had a fizik Allantra for 4 years so wanted to stay with the brand. The open channel is new to me, roughly 500 miles on it and again it feels great.
Thank you for your feedback.
impressive fit
Cycling Enthusiast
Sunnyvale, CA
4 of 5 customers found this review helpful.
So I had a Specialized Romin Evo Pro that I was fitted for, which at the time felt like a good saddle, but I didnt feel like it was a great saddle. So I had a bad crash and the seat got a little torn up, but still worked, but always want to replace it. So I saw this saddle on GCN so decided to take the plunge. Went on the Fizik website and entered in the information and was told this saddle is best fit for me. Ordered this saddle and wow is this saddle way more comfortable. Very impressed with the quality and fit.
Thank you for your feedback.
Saddle relief
4 of 4 customers found this review helpful.
If you like the standard Antares you'll love the new cutout design. My only complaint was about some occassional pressure points. This has been addressed and it's been great. Size 143mm.
Thank you for your feedback.