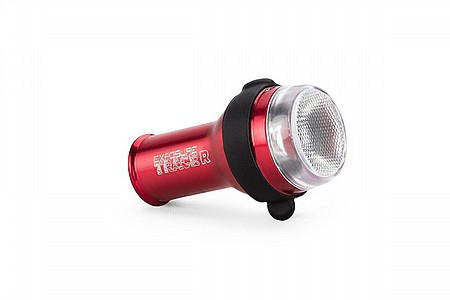 User submitted reviews
Review by Anonymous
Good light, but not that great for daytime riding
1 of 1 customers found this review helpful.
The light does its job. It is well constructed and I hope it lasts for a long time. The reason I am giving it only four stars is because I was mainly looking for a light that would be very visible during the day. This involves not only brightness, but also a flashing pattern that attracts attention. The exposure light suffers in this regard. Its only flashing setting consists in augmenting the light while always keeping it on. That is to say, it never turns off to turn back on. This pattern does not create much of a contrast to attract the attention of drivers during the day. I would have better spent the money on the Bontrager Flare, which I've seen and I like.
Otherwise, it is a very good light with good features and solidly constructed.
Thank you for your feedback.
Review by MJG1231
Excellent Light with Options
Cycling Enthusiast
Sunnyvale, CA
This light allows for many options that may make a difference when needed though the reality is I use it on only one or two settings depending on how long the ride is. Either way it is bright, easy to direct the beam and turn on/off while riding. It is well-made, rugged and easy to manage/charge but also more expensive than another hard plastic brand that is more powerful lumens-wise. The versatility makes it a good choice,
Thank you for your feedback.