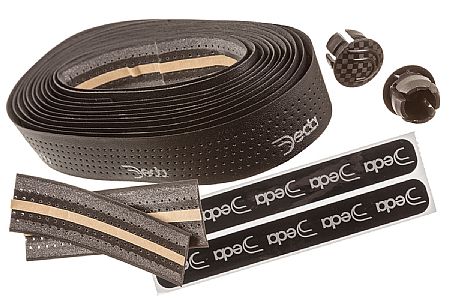 Classy and comfortable wrap
Cycling Enthusiast
Portland, OR
1 of 1 customers found this review helpful.
I bought the brown version of this wrap specifically to match my Brooks honey saddle. It's not a perfect match but is close enough to look great. The perforations definitely add to the classic look. It's got a comfortable, if slightly slick surface. It's not as grippy as cork, but I've ridden some 3,000 miles with this wrap in all weather conditions without any issues.It's got just enough stretch to be smooth around the drops but doesn't slide everywhere like some gel wraps. My bike took a little spill (without me) and had some of the brown surface scrape off. It's held together for a good month now without fraying or coming a part, which is a perk.
Thank you for your feedback.
Don't expect much
Cycling Enthusiast
central Virginia
Not recommended. In replacing the flared end gravel bars that were on my new bike with normal bars I knew it'd take some experimentation to dial in the hoods and blip buttons, so I bought this inexpensive tape as a throw-away. It barely met even that low expectation. The material did not have sufficient stretch for a clean, crease-free wrap. The adhesive strip wasn't even tacky. And the top surface had a definite vinyl look. This tape is roughly equivalent to some ~ $7 outlet-brand tape I once bought a few years ago for the same purpose...to use temporarily on rides while I dial in a fit. Only the outlet-brand tape was easier to wrap and looked better.
Thank you for your feedback.
Expect what you pay for
This tape was on sale, and already pretty cheap. So, I bought some to wrap my 70's nishiki international handlebars with. It feels great, and looks great too, but it isn't without it's problems. The adhesive strip ripped the foam from the tape, instead of leaving an adhesive strip. I basically had to wrap them with no adhesive to help. This was my first time wrapping my bars, and it turned out okay despite this. The only problem is without the adhesive the grip shifts a bit to much. Either way, I'll ride it til it falls off.
Thank you for your feedback.
You Broke my heart Deda
Cycling Enthusiast
So. Cal
Was looking for something more durable than cork, not too pricy. This products top layer started to disintegrate on first ride, and gets worse and worse, every ride. Even while using soft gloves. At any price this products is a disappointment. Not even a month in and ready to repurchase and re wrap. In hindsight, would have been more prudent to spend slightly more for perhaps a better product. Sorry Deda its a fail.
Thank you for your feedback.
Deda Mistral Handlebar Tape
Cycling Enthusiast
Houston, TX
You'll need sunglasses
1 of 2 customers found this review helpful.
I purchased the florescent orange and it is bright. The pictures don't do it justice. It has a classic leather type look and feel to it and has held up better than my Brooks tape. My only complaint is that i wish it had more cushion but I knew going into the purchase it was not designed for cushioning.
Thank you for your feedback.
Looks great, but not very durable
Cycling Enthusiast
Los Angeles, CA
3 of 3 customers found this review helpful.
I have the brown leather color, which looks great with a Brooks honey saddle. It's microfiber with a foam backing, and the microfiber layer is quite thin. It has worn through right behind the hoods, where it gets the most wear, after perhaps a year. By way of comparison, I have Deda's Elementi tape on other bikes, and it still looks good after 3x the time and mileage.
If the Elementi or Fizik's tape came in brown, I would use those instead. But they don't, so I am about to retape with the same Mistral tape.
Thank you for your feedback.
Not the greatest, very hard to not wrinkle tape
Competitive Racer
Louisville, KY
1 of 1 customers found this review helpful.
I had a few issues at pretty much every bend of my bars where I couldn't really get the tape to smooth out. It kept bending and creasing instead of wrapping smoothly. Can't say that I'd recommend it. Bought it in the brown leather color for a fixie build and it does look pretty nice though, outside of the creases.
Thank you for your feedback.