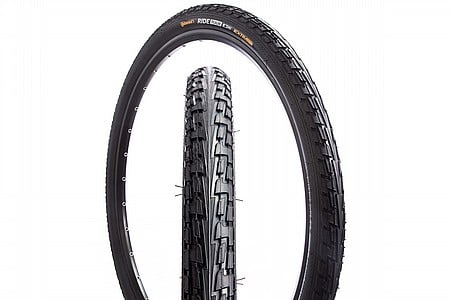 One of the four tires I purchased was not formed properly and was extremely out of round. Totally unusable. A second tire was barely useable.
Cycling Enthusiast
Atlanta
8 of 8 customers found this review helpful.
I was very dissatisfied with the quality control of the manufacturer to allow tires that are not round to be sold. Two of the four I purchased were functional for recreational riding. One was marginally functional. One was completely unusable. I had four very trued rims and tried multiple mountings to index the questionable tires in an attempt to get a trued up tire. Unable with the one.
WesternBikeworks.com Comments
Hi,
Thanks for your review! Sorry to hear you had such trouble with these tires -- sounds like you might've gotten a couple defective ones. Please get in touch with our customer service department at [email protected] if you haven't already heard from them -- we'd love to help you out and make things right.
Thanks, Stacia
Thank you for your feedback.
Fine recumbent front tire
Cycling Enthusiast
California rain forest
3 of 3 customers found this review helpful.
Was running Schwalbe Marathon Green guard which is a good tire. This Ride Tour is lighter and more supple. My riding buddy has them on his wedgie and he never flats, and he is a big dude! Continental Contact is even more supple but has less flat protection, a fine tire as well. The Ride Tour tracks straighter on dirt or loose surfaces than the Contact. Marathon is not as lively feeling as either Continental.
Cheers, MAC
Thank you for your feedback.
Great tires
I have only had my 20" Continental tires for about a month but they have performed above my expectations. Haven't lost even one pound of air and with more than 300 miles of road riding on them can't find any signs of wear. The Kindle tires that I replaced, wore through to the threads with only 500 miles of wear. I'll definitely buy more Continentals in the future.
Thank you for your feedback.
Great trike tires
4 of 5 customers found this review helpful.
We purchased these tires for my trike. They ride smooth with good speed and secure grip for fast corners. I've got a couple hundred miles on them and they have no noticeable wear. I'm back on the site to get some for my husbands trike. Website great with fast free shipping and a good price for a great tire.
Thank you for your feedback.