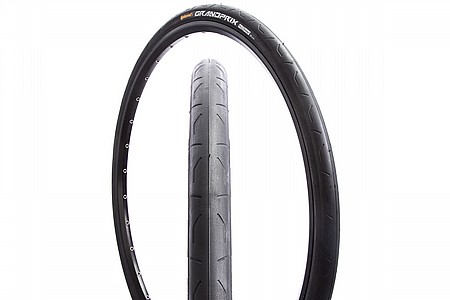 Great tires for my roadie
This tire is fast!
Cycling Enthusiast
Oklahoma City
1 of 1 customers found this review helpful.
If you're looking for a fast 26 inch (iso 28-559) tire for hard surfaces for your hybrid, mountain bike or recumbent, this is the one. I've tried many tires and none are as fast as the Continental Grand Prix and if offers excellent puncture protection as well. I switch between this and a larger gravel tire depending on whether I'm riding the road or dirt and gravel and this is the fastest one I've found in a 26 inch size for road and other hard surface riding. It also lasts longer than expected for such a fast tire and It has tread life indicators so you know when to change it. I routinely get over 4000 miles before changing them.
Thank you for your feedback.
Great tire for road touring
by
Stacia
(WesternBikeworks.com Staff)
Cycling Enthusiast
Portland, OR
4 of 4 customers found this review helpful.
I used this tire on my fully-loaded touring bike on a cross-country bike tour. Rode these tires over 2000 miles on all kinds of roads (and even a little bit of gravel - wouldn't recommend these tires for that though!) before my first flat. Soon after that I replaced the rear tire with a different one I picked up at a bike shop that didn't roll quite as smoothly AND didn't seem to prevent flats as well. The front one made it another 2500 miles, but not without a few flats. Should have replaced them both with another set of these. Still, not bad, especially considering all the weight I was carrying! I was very happy with the performance of these tires - good grip in all conditions and fast-rolling.
Thank you for your feedback.
Fast and Durable
Cycling Enthusiast
Victor, NY
2 of 2 customers found this review helpful.
I replaced the Schwalbe Kojaks 26 x 1.35 on my Volae Explorer Pro (now 28-559) - while slightly harsher in ride (more psi), these seem faster - corner well and so far - durable. The online test results suggest these have less rolling resistance than Kojaks and I'd agree. The supposed 28mm size, however, fits out more like 31 mm. Mounting this folding tire was no problem after I unfolded and left them in the sun to take shape. These are comparable to my other bike's Panaracer RIBMO - where the supposed 32mm. size is an actual 30mm. RIBMO's have been bulletproof for 750 miles so far - and I'd flip a coin on which to buy again.
Thank you for your feedback.
I really like this tyre!
3 of 3 customers found this review helpful.
I ordered this 26x 1 18 Continental GP tire for my 96' Bianchi Nyala as part of a set to convert this old MTN bike to a RoadCityCommuter custom rebuild. It's a been a little while that i've had this tyre and it has completely changed my riding experience.
I knew about this reputable brand for a while, and when I came across this product I knew I had to get onboard.
I reccommend pairing this tyre with the Conti Slim Tour innertube (also 26x 1 18), which fits like a glove. You just need a WoodsDunlop to Schrader valve stem adapter, which is sold by Cutequeen brand.
Thanks to this tyre, I can now almost keep up with road bikes, almost. Rolling resistance has greatly improved from the Schwalbe Silento tyres that I had on the bike for over 5 years, imagine the difference this product will do for your bike game!
My only gripe is that my rear tyre got a flat due to a small piece of fine metal wire piercing through the near center.
This is the only reason I knocked off a star, other than that, the tyre is fine and i'm diggin the riding experience!
Hope this was helpful,
Cheers!
Thank you for your feedback.
No Flats...
1 of 1 customers found this review helpful.
I have been using these tires since June 2015. I haven't had one flat yet. I cycle in downtown Toronto.... Otherwise they perform excellent in wet conditions (but of course stay off the tracks).
I attribute the no flats due to the tire's max psi rating of 120. I inflate between 115-118psi. My previous tires were
Continental Sport Contact Tire (26x1.6). Good tire however too many flats. This is probably because the max psi on those was around 80.
Thank you for your feedback.
Great Tires
Cycling Enthusiast
Ann Arbor, MI
3 of 3 customers found this review helpful.
I've been getting Continental Grand Prixs (sp?) for many, many years because they work. I typically get 2,000 miles on each tire and these are no exception.
This is the first set of 26 slicks I've owned and I haven't had any (zero!) flats with these tires. They roll very well but it's not like it's easy to hang with the folks on regular road bikes.
Definitely, these are comfortable tires. Riding the rough, crappy roads with these tires isn't an issue.
Thank you for your feedback.
Great tire
Cycling Enthusiast
LA area
4 of 5 customers found this review helpful.
First, I want to clear that this tire fits a regular mountain bike 26 rims. I have read that tires described by fraction (1/2) and decimal (0.5) are not the same sizes. Usually, fractions are meant for 26" rims mountain bikes. The decimal tires are for old school road bikes. This tire is described as a decimal but fits my mountain bike perfectly. I wanted them for my road bike, but did not fit. I just do not want the hassle of returns after I had some trouble getting UPS to deliver to my apartment. But over all a well German made tire.
WesternBikeworks.com Comments
Hi,
Thanks for the review! There are actually several different 26" wheel sizes; it's easy to get them confused. You are correct that, generally speaking, standard mountain bike 26" tires are indicated with a decimal. Continental goes against the grain with their labeling of this tire, which is why we're careful to specify that it does in fact fit standard 26" MTB rims. The key thing to look for when you're trying to match tire sizes is the ISO number -- in the case of the standard 26" MTB size, the ISO is 559. You can usually find this number in parentheses, preceded by the width in millimeters, on the sidewall of your tire. We would be happy to help you find the right size for your old school road bike -- you might find this article useful: Older 26 Inch Tire Sizes. Or don't hesitate to contact us at [email protected]
Thanks, Stacia
Thank you for your feedback.
Smooth and Fast
1 of 1 customers found this review helpful.
Great traction and ability to lean the bike without slipping. Fast quiet tire. Tire is on a recumbent, typically ridden in the bike lanes along side of traffic. Only about 100 miles thus far, but happy.
Thank you for your feedback.
559 Grand Prix Tire
2 of 2 customers found this review helpful.
Far and away the fastest tire in 559 size. I ride a recumbent and I've been using these for the last 4 years. No other tire compares. Black chili compound makes for a low rolling resistant durable tire.
Thank you for your feedback.
Best skinny ever
Cycling Enthusiast
Hawaii, Vietnam