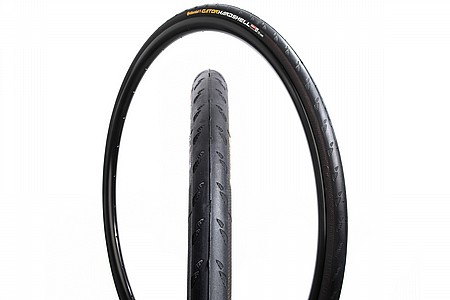 User submitted reviews
Review by Rock_Head
Great Tire
Cycling Enthusiast
E-City, NC
42 of 43 customers found this review helpful.
As a large rider, 275 lbs., I torture tires on my old 27 Puch. Many of the roads I ride are old asphalt with some scattered gravel here and there. Probably 23 of my flats were in the sidewalls from a piece of gravel. Tire pressue made little difference. I tried several brands of tires. After years of fixing a flat per month, sometimes more, I heard about Gatorskins from a friend that said his flat problem has virtually stopped since using them. I went on-line to shop for them and saw that they now had a hardshell version. It sounded just like what I was looking for. Though a little pricey, I haven't had to fix a flat, not one, since mounting these 4 months ago. Possibly because of the increased downforce that I exert I haven't had any ride problems. These babies roll smooth and fast. I think these are a good choice for us big folks.
Thank you for your feedback.
Review by Anonymous
In many ways, these are the best tires I have ever had.
Cycling Enthusiast
Central Texas grasslands
27 of 28 customers found this review helpful.
Previous Specialized 27 tires have given me over 3,000 of good service. I know that is too much, but I was not having any problems riding the smooth, country roads of Kansas. When I moved to Texas, I began having far too many flats. I went to Slime and still had leakers and aggravation. The switch to these Gator Hardshell was good from the start. Far easier to install than the Specialized - just a skosh more ID -made the experience good from the start. While the ride is little rough, the peace of mind regarding flat protection is a fair trade. So far, I give these hand made in Germany Continentals high marks. Even their appearance is top-notch. Time is always the judge, but I think I will enjoy these tires for a long time.
Thank you for your feedback.