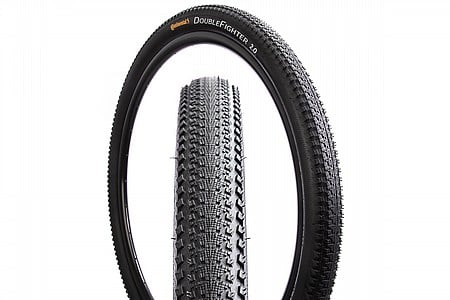 User submitted reviews
Review by ealvarez5
Excellent tires, they feel good on the street
Cycling Enthusiast
Lakeland, Fl
I use these tires to replace old 26x175 tires and the difference is night and day. They feel really good on the street but still provide good grip. Highly recommended.
Thank you for your feedback.
Review by Mikhailfreidkin
Excellent Product & Customer Service
Called in before placing my order to ask if the tires will fit my bike. The person who answered was helpful and professional. The tires came in a timely fashion. I am extremely satisfied with the tires I purchased. Thank you!
Thank you for your feedback.
Review by Philly commuter
Handles mud, gravel, pavement, potholes better than I expected
Daily Commuter
Philly commuter
This new Continental Double Fighter tire tracks very well in mud and does handle gravel well. It is also very quiet and smooth on tarmac. It also absorbs small potholes better than harder tires. It is a little lighter and thinner than I thought it would be, so I installed a tire liner because I live in an area with lots of broken glass, metal debris, etc.
Thank you for your feedback.