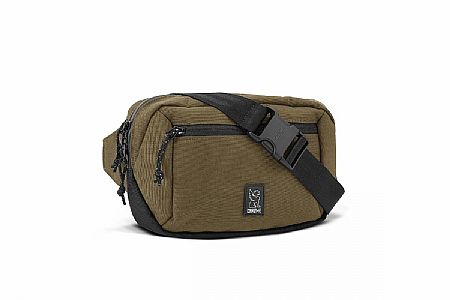 User submitted reviews
Review by DCGardener
(Almost) Everything you want in a bumbag!
4 of 4 customers found this review helpful.
I'll keep it short and to the point:
PROS:
- Great, rugged material; it's built to last many, many miles.
- Ample space inside the bag (i.e., 24 oz crowler, rolled up Houdinin jacket, repair kit, hat, headphones, smashed PB&J, etc.)
- Smaller zipped pouch allows for easy access to often needed items (i.e., keys, facemask, Clif bar, bikelights when dismounted)
- Water-resistant lining in the pouch interior, I've ridden multiple times in the rain with this bag, dry as my whistle as I write this...
- Boxy, flat body allows for plenty of cargo while planting it firmly against your body, this is ideal because I hate a sloppy bag that bounces around.
CONS:
- No interior loops for key chain
- No daisy chain on the outside (maybe above the logo?) for placing rearlight when riding. But I knew that when I purchased it, I have eyes.
- Unless you are an absolute giant on two wheels, the waist strap is very long and will hang out as slack once buckled and cinched. I'm not sure why they were so generous with the webbing they used for the strap. I guess I just worry about it getting caught on side-mirrors, doors, e-scooter handles...
- Expensive. But, you're buying a bag for at least a decade and you'll have Chrome's 365 TO LIFE guarantee.
Thank you for your feedback.