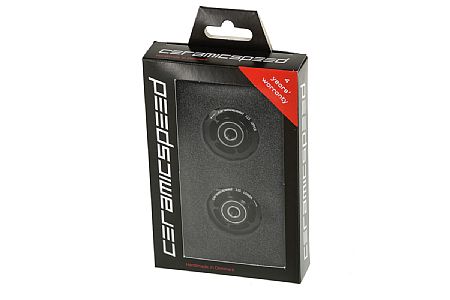 User submitted reviews
Review by Anonymous
So little gains, you can't quantify -but they're great for silent judgement.
Cycling Enthusiast
Seattle, WA
7 of 9 customers found this review helpful.
So, you can't buy speed. How did Steven Hed put it? You're just off-setting poor training? That's really what these pulleys do. There's no hidden motor. There's no tricked out air-foil to give you lift. You're just trying to squeeze a couple watts of parasitic friction out of your drivetrain. Yeah, probably along the lines of a couple as in 2. An only while you're pedaling. There aren't any gains here while coasting.
In hand, these are noticeably smoother than SRAM BlackBox, Enduro Zero, and F1 Ceramic pulleys with similar hybrid ceramic bearings. I almost went with Kogel bearings until BKT had these on sale one day. These are my second experience with CeramicSpeed, in general. My first being ENVE carbon hubs (no complaints, yet).
I'm not sure how the longevity of these pulleys will play out. There are seals on the cartridge bearings, but there's an absence of dust caps covering the cartridge bearings. The provided bottle of lubrication feels more like a light oil instead of a typical water displacing grease. I like the choice of anodized aluminum for the teeth instead of Delrin. Not because of potentially wearing longer (probably the opposite), but because like my Ultegra 6800 in anodized anthracite -the chain locally wears off the anodizaton off the teeth. So even when the bike had a fresh wash, there is noticeable wear in the drivetrain. It's like pulling up in a freshly waxed sports car, but your exhaust tips are matte with black soot. This ain't no trailered show car.
In terms of making you go faster? You probably have the same effect of adding yoga to your cross-training, then removing like 10mm of headset spacers to make you more arrow. Personally, I can't numerically capture any gains by using these ceramic hybrid pulleys. They just genuinely smooth out your pedal stroke and they make you look the part.
Thank you for your feedback.
Review by Anonymous
Awesome parts
0 of 3 customers found this review helpful.
Thank you for your feedback.