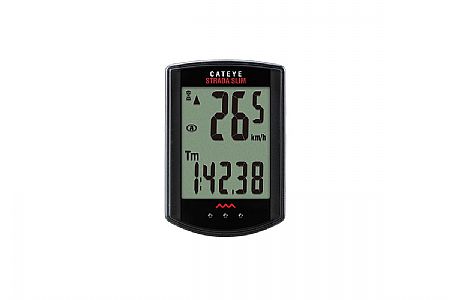 Easy to use easy to see. Useful functions
Wiil not function with LED lights
Cycling Enthusiast
Colorado
2 of 2 customers found this review helpful.
The main reason that I use a cycle computer is so I can record my mileage. This Cateye Strada will not provide any data except time when LED lights are in use. If you commute or ride in darkness that requires lights, this product is worthless. I spent time adjusting the sensor, money replacing batteries before I read an online forum where the problem is widespread and well noted. Shame on Cat Eye and Western BikeWorks for not making this problem clear.
Thank you for your feedback.
Provides most of the info a cyclist needs.
Cycling Enthusiast
Carlsbad, NM
5 of 6 customers found this review helpful.
Gives trip distance, instantaneous speed, average speed (for trip), trip travel time,, current time, and odometer.
I the wheel sensor connected to main unit by radio signal. Not much that I don't like.
Thank you for your feedback.
Love this computer
3 of 3 customers found this review helpful.
I tried GPS computers and dont like them. They dont last long on a charge. Mine went dead about 60mi into a century. Also constant charging and having wires all over is a pain. So I went back to the old school way of using a battery powered unit. Im glad I did as the Cateye Strada is a great unit. Once setup its very easy to use and doesnt take up a lot of space. Display very easy to understand and navigate
Thank you for your feedback.
A good product at a good price.
Excellent Cateye quality
Cycling Enthusiast
Auburn Ca
11 of 11 customers found this review helpful.
I've been using the old Cateye Micro Wireless for years (ever since they came out), plus a couple of VDO's, Vetta's, and Cateye wired. I thought it was time for a new toy. Decided to stick with Cateye. I looked at a couple of online videos before my Slim arrived. Programming was not as difficult as I anticipated. I did not have to resort to reading directions (but men never read directions anyway, right?). The hard part was pushing the tiny little reset button. I used the tip of a pencil, probably not the best device to use. Set-up was fairly easy, sort of the same as the Micro Mini, if you are familiar with Cateye computers. The computer head is smaller, the digits are larger (I compared it side to side with my old Micro). I installed mine on my stem. A little muscle was necessary to get the rubber mount band to co-operate, but once it's on, it's on.The diff between the Strada Universal and the Strada Slim is the road sensor. Basically the same as the old wireless Cateye sensors. One thing I like about the operation is the push on the computer head (not too long, or you will loose all your information, except your odometer reading). to get readings. Nice in the winter when you are wearing long fingered, bulky gloves. The computer will go to sleep after a few minutes, so you have to remember to restart it if you take a break on a ride. If you want a basic computer this should fit your bill. It's small, compact, non-cluttered appearance. Excellent Cateye quality. All the parts are replaceable through Cateye. The only improvement would be saving odometer reading when installing a new battery.
Thank you for your feedback.
Simple, intuitive and easy to read.
Cycling Enthusiast
Portland, OR
5 of 5 customers found this review helpful.
As a certified retro grouch wo a Garmin, I have owned several Cateye computers over the years. This is the best one yet. It has all the basic functions you'd expect and need from a cycle computer in addition to the wireless connectivity, which is a must in my opinion. Where they improved this computer is the larger display which is much easier to read at a glance. The mode button has also been improved with a simple tap that pushes the button on the underside. The stem mount has also been upgraded wo using zip ties - no more ouch. For the money, anything with wheels that you own should have one of these.
Thank you for your feedback.
Great for tracking your time on the bike
Easy install and set up, all the features I wanted
Cycling Enthusiast
Minneapolis, MN