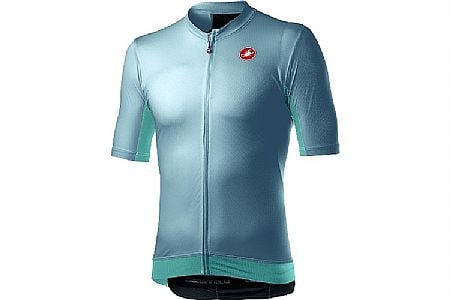 Not so impressed
Cycling Enthusiast
Austin, TX
0 of 1 customers found this review helpful.
I have had and been happy with various castelli jerseys over the years but I am not a fan of this. The sizing is one issue ... I had to up size to 2XL despite wearing multiple XL castelli jerseys for years and even then, the sleeves are tight on my not so bulging biceps. Also, It is tight and pulls in some areas (shoulders/underarms) but is loose/baggy in others (stomach/torso). Besides the fit, the fabric is not appealing, it has a weird sheen like an old rayon shirt from the disco era and feels clammy when it gets hot. I have worn it once and am unlikely to wear it again
Thank you for your feedback.
This is a very nice jersey
Cycling Enthusiast
Bay Area, CA
I have a hard time shopping for bike clothes as I really can't predict what will fit. That said I realized that there are real benefits to a proper fitting jersey that can wick away moisture. I'm 5'9" and 165 lbs and this jersey in a Large fits perfectly. I've gone on up to 100mi rides with it and it has always been comfortable and has done what I needed it to do. I have mostly worn it in 65-80 degree weather, mostly near the coast in the SF Bay Area. It will probably be good for hotter weather as well.
Thank you for your feedback.