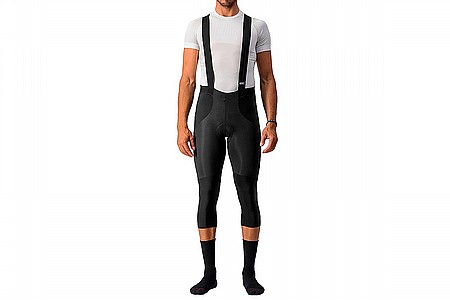 Excellent Knicker, let down by the pad.
Cycling Enthusiast
Vancouver, WA
6 of 6 customers found this review helpful.
I'm a huge fan of knickers. I have owned several pair from several different companies. When my go-to pair for 40-50 degrees, finally wore out, I was on the hunt for a new pair.
I was looking at these and the Giordana FR-C Pro and was told by CS that the Castelli should be warmer. I bought both and while I loved the fit and pad of the Giordana, I could tell they were not going to be as warm.
I'm 5'9" and 160lbs and got a Medium.
The fit is very good. The length goes to just below my calf, which is what a proper knicker should do. They are warm and windproof in the right areas. I rode these on a really foggy day and I was getting moisture build up on the outside of the legs, but stayed dry. The straps are excellent. The fabrics are excellent quality. I never felt clammy.
The bummer is the pad. While Castelli calls it their top of the line, I prefer the KISS AIR 2 pad. The Progetto X2 pad in these, is not as comfortable. It kinda just flattens out and you feel your seat more. It also feels a little forward and I have to pull the tights from the back occasionally. I know Castelli designs some of their clothing to be race fit and thus worn in a more aggressive, bent over position, so maybe that's what's going on here.
I have the Nano Tutto Nano kinckers and while they are not as warm, the KISS AIR 2 pad is much more comfortable.
Over all these are a great knicker for Mid-weight warmth. Fit great, but the pad keeps these from being excellent for me.
Thank you for your feedback.
Tight fitting somewhat warm bibknicker - Advise you size to match Free Aero Bibs
Cycling Enthusiast
San Diego
1 of 1 customers found this review helpful.
I wear an XXL size in Castelli Men's Free Aero Race 4 Bibshort. I am 5ft 11in, 190 lbs.
I wanted to try some Castelli Bibknickers so I ordered initially a Castelli Men's Tutto Nano Bibknicker in the XXL size.
The Tutto Nano felt too heavy and thick compared with the Free Aero shorts. So I returned the Tutto Nano's and tried the Sorpasso RoS Bibknicker in a smaller size (XL). Mistake: They are extremely tight fitting (like the Free Aero Bibs). I thought that i would like the fit like the Free Areos, but the fit in the XL size is too tight to allow circulation in my legs. As a result, they do not provide warmth. This is primarily a sizing problem so I would just advise to buy the same size as your Free Aeros if you have a pair.
Thank you for your feedback.
Fits well and keeps me warm
Cycling Enthusiast
Spokane, WA
0 of 2 customers found this review helpful.
I'm 6'3" tall, 195 lbs, 32" waist and wear a 33" jean length. These bibs fit great! They do a good job keeping the chill off between 40 and 55 degrees. Also from 55 to 65 degrees in temp they are not too hot. Good fall spring riding choice piece of clothing.
Thank you for your feedback.