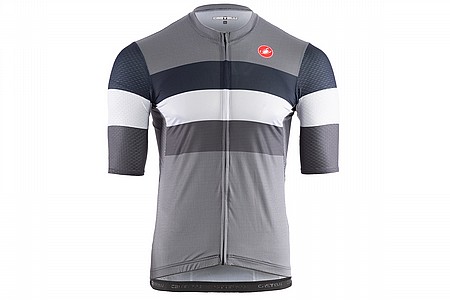 User submitted reviews
Review by Anonymous
Not for me
1 of 1 customers found this review helpful.
The stretchy form hugging fit and tight neck makes me want to size up to medium even though I've always worn small in this brand. The material is semi transparent and there's no mention of SPF or UPF rating. I'd rather wear jerseys made from heavier but sun protective material considering I'll be spending hours in the sun in it. I'm returning.
Thank you for your feedback.
Review by old1
Superior fabric
5 of 5 customers found this review helpful.
First the negative: I think this color is probably too dark for a blazing summer day. It is darker than pictured--probably a royal blue. Admittedly, I am old and can't handle the heat like used to. Other than that, this is an excellent hot weather jersey. I gave it the breath test--put it up to my mouth and breathed through it, and it was like nothing was there. Feels the same way on a ride. I don't even notice I'm wearing it--until I'm in the direct sunlight and the dark color starts soaking up the heat. Sizing it the typical crap shoot. I'm 6'6', about 205 lbs., and ordered a 2XL. I like the fit, it is snug, not tight (except across my swimmer's shoulders) but it is looser than what you see on the racers and models. So if you want skin tight, I would suggest ordering down a size.
Thank you for your feedback.
Review by Moab Man
Castelli fits me best!
Cycling Enthusiast
Marin/Moab
Lightweight jersey for road riding.
Thank you for your feedback.