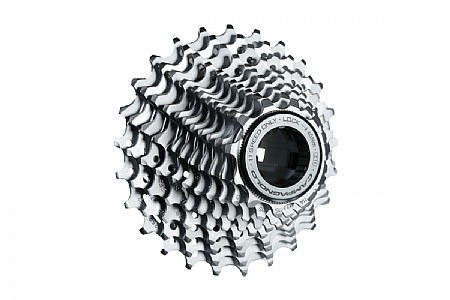 Campy Chorus cassettes are the best value for the money.
Cycling Enthusiast
San Diego
When I was younger, I wanted the lightest titanium everything. Now, I want more teeth (on my cassettes) and longer cassette life. Campy gear lasts a long time. After 13 years, my 10 speed rear derailleur snapped in half (I think it was a chain issue), so I had to upgrade to 11 speed. I believe the 11 speed system performs better that the old 10 speed.
Getting back to cassettes, over the 13 years of my 10 speed system on two bikes, the Chorus cassettes showed less wear than the titanium. With care and cleaning, I believe the Chorus cassettes will give you many years of service.
Thank you for your feedback.
Great cassette but expensive
Competitive Racer
Corona, Ca
2 of 3 customers found this review helpful.
The cassettes from campagnolo are the best, last a long time easty to clean and shift is flawless
These cassettes are made in Italy
If you compare to other cassessettes they look like works of art
My only complaint is they are significantly more expensive than Sram and Shimano components
I have always been partial to Campy
Thank you for your feedback.
Great value
2 of 5 customers found this review helpful.
Bought this cassette for my trainer wheel and it has worked great. Note that some older Campy hubs are not compatible with 11 speed. In other words, don't assume an old campy 10 speed hub that you use for a trainer will work with your 11 speed group.
Thank you for your feedback.
Solid Performer
4 of 5 customers found this review helpful.
I have always found Chorus products to be of the superior quality you expect from Campy at a very reasonable price when compared to Record or Super Record. There might be a slight weight penalty compared to the Record and Super Record versions (as is advertised with this cassette), but I have never noticed it on the road. I currently use all three levels (Chorus, Record, Super Record) cassettes on various wheelsets. This time I opted for the 11/27 gearing to have a sort of bail out gear on those bad days when you try to go just one climb too many. So far so good and I expect lots of miles from this cassette like all other Campy cassettes I have owned.
Thank you for your feedback.
Great alternative to the more expensive Record cassette, a wee-bit heavier but same great performance
Competitive Racer
Montreal, Quebec
Great product, very long-lasting and durable.
Cycling Enthusiast
Seattle
4 of 5 customers found this review helpful.
I do most of the work on my bikes and changing the chain and cassette is normal maintenance, especially my winter bike. The Campy products are the best quality and I have never had a problem with broken chains or early failure. Their website is great for technical information and product specifications. I would also recoment their chain tool as an important additionb to a home mechanics tool kit.
Thank you for your feedback.