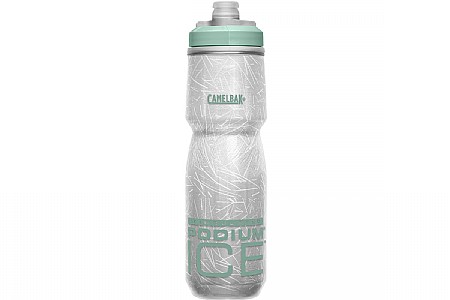 Favorite bottle for summer heat.
Cycling Enthusiast
Kansas City
Great bottle.
Cycling Enthusiast
Smyrna DE
Use this bottle on 50 mile rides, keep the beverage cold. At times, after the 3 hour ride there is still a little ice in the bottle. I filled the bottle with ice to the top, and add the beverage, nice having a cold drink while riding.
Thank you for your feedback.
Did not notice any difference from the Podium Chill
Cycling Enthusiast
Lancaster, CA
Good Bottle Short Nipple
8 of 8 customers found this review helpful.
I have had and liked the Camelbak Podium Ice water bottles prior to this one. It still keeps the water cool on warm days, but it took me a few times using it to figure out why this newer version of the bottle wasn't as easy to drink from as the older version - the nipple on the bottle is much shorter than the older version, therefore I end up with the twist wings (don't know what else to call then) between my lips. The water just doesn't flow like the older version and drinking from the bottle is not that comfortable. Camelbak needs to go back to the previous length for the nipple.
Thank you for your feedback.
Nice, but not perfect.
Cycling Enthusiast
California
Fits well in bottle cage and keeps drinks cool
good bottle for summer riding
Cycling Enthusiast
the mts. between Scappoose and Vernonia, or.