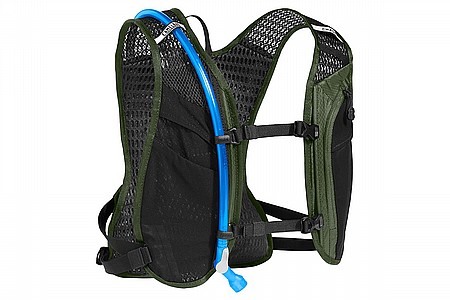 User submitted reviews
Review by The Carrot Head
I never leave for a (gravel) ride without it!
Competitive Racer
Loveland, CO
This vest provides ample pocket space for my phone, ID/Cash/Cards, allows access to 4 gels on the straps, and allows me to carry 2-3 TPU tubes and 3 CO2 cartridges plus a mini pump and multi tool. 118 mi gravel race and only two refills, I think the reservoir size is ideal when supplemented by larger bottles or a bladder in a frame bag - this is an excellent, all-around accessory that works on race day or for training rides.
I do not use this on the road, but for long solo excursions it allows me to get through a 4-5 hour training ride without issue. There is an added safety boost with a vest, if you happen to go down on a rocky descent - I suppose any hydration pack would do this - but I owned the previous iteration of this vest that finally bit the dust when I caught my front wheel in a rut on a rocky, technical descent - and I don't think I would have made it home if it weren't for the cushioning of the water reservoir and the straps being placed where they are - I likely would have broken a rib or collarbone/scapula without this... but for the most part, the storage does the trick.
Only drawback: if you're not careful, you still can lose gels/small items stored in the strap pockets (not the zippered one) so be sure to tuck them in carefully or relocate those to a jersey pocket if you're riding exceptionally rough road - a few of my gels went missing and were somewhere on a remote county road when I saw my nutrition reminder on my Garmin.
Thank you for your feedback.