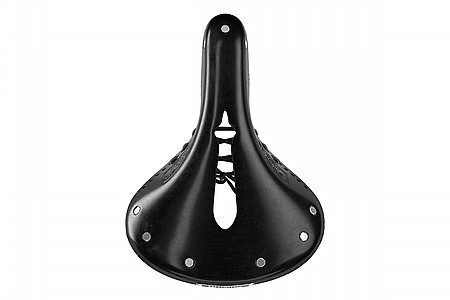 How is this seat so comfortable?
1 of 1 customers found this review helpful.
Its strange that this leather can be so hard feeling when you first purchase it, but its such a comfortable seat regardless. Done some seriously long rides and Im about to do my first century ride with this saddle. Ive heard they get better with time too so Im very excited to see how it can get even more comfortable
Thank you for your feedback.
Absolutely, without a doubt, THE most comfortable seat this tush has ridden on!
Cycling Enthusiast
Seattle, WA
10 of 10 customers found this review helpful.
This is my second Brooks saddle. I have a black one on my road bike. People think that a bike seat should be soft and comfortable. Unfortunately, nothing could be farther from the truth. My husband taught me that the reason a seat works is that it allows all the pressure to be on your sit bones and not soft tissue. Having leather that over time conforms to your unique physique is so necessary. If you have a soft, cushiony seat, you are, over the duration of the ride, putting more and more pressure on your soft tissue which causes the pain and numbness. The Brooks Imperial B17 Saddle for women allows you to 'sit' where physically you should be - on your sit bones. After a break-in period, you will never look back. I've had my other Brooks saddle for over 4 years - it is phenomenally comfortable, even after riding 100 miles at a stretch. Give this seat a try - you won't regret it.
Thank you for your feedback.
Fantastic saddle
Cycling Enthusiast
St. Louis area
Excellent quality, comfort and durability with style.
Cycling Enthusiast
Colorado, USA
Buy Brooks!
Over the winter I detailed a Vitus 979 I found for a riding friend of my wife. Some drillium, matched skewers in era Mavic sew-ups and this B17Sb Imperial. She is systematically getting every bike saddle converted. Now if only I can get a B18 raspberry...
Thank you for your feedback.
Road warrior
2 of 2 customers found this review helpful.
Im wondering if the previous cyclist really ever road long distances with this seat. The cut out is very harsh even rough to my fingers touch. After having this seat for more than 8 months now it rubs like a knife the inner lady parts. The edges of the cut out are too rough too sharp they hur the lady parts. Even after hundreds of miles its not wearing in not the inside edges. Its not the firmness of the seat its the cutout.
Thank you for your feedback.